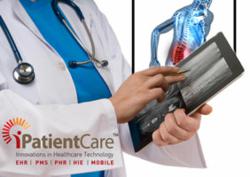 "I am quite mobile, and hence, iPatientCare on my convertible tablet with my customized templates is what I love." - Ross Nochimson, MD.
Woodbridge, NJ (PRWEB) June 25, 2013
iPatientCare, Inc., a pioneer in mHealth and cloud-based ambulatory EHR and integrated Practice Management solutions announced the special recognition in achieving significant maturity in delivering specialty-focused EHR and integrated Practice Management and Patient Portal solution, particularly for Pain Management.
While speaking at the Corporation wide Event on "Towards Meaningful Use 2014", Udayan Mandavia, CEO, iPatientCare was delighted to say, "iPatientCare has succeeded in business by delivering solutions that were designed by users to be friendly and intuitive. We consciously survey our customers for their preferences, priorities, and satisfaction. I am glad to know that iPatientCare is recognized by its users for the maturity of its unified system - EHR, PM, and Patient Portal – particularly by Specialists. This is the special recognition for our Clinical Content Management Group and Integration Specialists for delivering specialty-focused clinical content, workflow customization, and equipment interfaces."
"As a busy Pain Management specialist, I believe, the EHR should not distract me from my mission to deliver care to my patients. I love iPatientCare because of the Pain Management templates and the workflow which is customized to suit to our practice. We are a multi-provider, extremely busy practice. Thanks to iPatientCare Patient Portal, which we implemented recently, that our patients can book their own appointment and fill out our fairly comprehensive questionnaire even before they come to the office! And, iPatientCare Practice Management or Billing System is just wonderful! We love this integrated system as it has increased our efficiencies drastically," commented Lesly Pompy, MD, Interventional Pain Management, Monroe, Michigan.
Ross Nochimson, MD, Highlands Interventional Pain Management, New Jersey also opined, "I am quite mobile, and hence, iPatientCare on my convertible tablet with my customized templates is what I love. Additionally, the workflow between my visit notes documentation even while I am out of the office and the office staff is simply the best and most appropriate."
"Based on the success of this Event, iPatientCare plans to share its tremendous success in the specialty care market segment within its own user base by publishing leading specialty focused templates and equipment interfaces," said Suhag Pandya, Clinical Application Specialist, iPatientCare, Inc.
About iPatientCare
iPatientCare, Inc. is a privately held medical informatics company based at Woodbridge, New Jersey. The company is known for its pioneering contribution to mHealth and Cloud based unified product suite that include Electronic Health/Medical Record and integrated Practice Management/Billing System, Patient Portal/PHR, Health Information Exchange (HIE), and mobile point-of-care solutions that serve the ambulatory, acute/sub acute, emergency and home health market segments. iPatientCare EHR was among the first to be certified by CCHIT in July 2006 and is currently CCHIT 2011 fully certified and ONC-ATCB 2011/2012 Certified Complete EHR for Meaningful Use. The company has won numerous awards for its EHR technology and is recognized as an innovator in the field, being a pioneer to offer an EHR technology on a handheld device, an innovative First Responder technology to the US Army for its Theatre Medical Information System, the first to offer a Cloud based EHR product. iPatientCare is recognized as one of the best EHR and Integrated PM System for small and medium sized physicians' offices; has been awarded most number of industry Awards; and has been recognized as a preferred/MU partner by numerous Regional Extension Centers (REC), hospitals/health systems, and academies. Visit http://www.iPatientCare.com for more information.
Contact:
iPatientCare, Inc.
One Woodbridge Center, Suite 812, Woodbridge, New Jersey 07095
Phone: 800-741-0981 | Fax: 732.676.7667 | Email: info(at)ipatientcare(dot)com