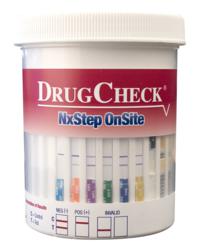 The expansive list of drugs and cutoffs approved for use in our Drug Screen Cup will deliver greater testing flexibility to administrators and healthcare providers throughout Canada to help improve screening and treatment for employees and patients nation
Blue Earth, MN (PRWEB) June 19, 2013
Express Diagnostics Int'l, Inc., manufacturer of DrugCheck® on-site drugs of abuse tests, today announced that it has received Class III medical device license approval from Health Canada to market and sell its DrugCheck® NxStep Onsite Drug Screen Cup in Canada. Class III licensure allows use of the rapid screening device in near-patient settings, such as physicians' offices.
The DrugCheck NxStep Onsite Drug Screen Cup received Health Canada Class III approval for 24 different drugs and detection levels, or cutoffs. In addition to tests typically included in drugs of abuse urine screens, such as amphetamine, cocaine, opiates, and marijuana, the Drug Screen Cup is also approved to screen for drugs not often cleared for Health Canada Class III, including cotinine (nicotine), EDDP, K2/spice (synthetic marijuana), ketamine, and alcohol.
"We are very pleased to receive Health Canada Class III licensure for our NxStep Onsite Drug Screen Cup," says Paul Johnson, CEO of Express Diagnostics. "Canada Class III approval will allow for wider distribution of our U.S.-made DrugCheck product, but more importantly, the expansive list of drugs and cutoffs approved for use in our Drug Screen Cup will deliver greater testing flexibility to administrators and healthcare providers throughout Canada to help improve screening and treatment for employees and patients nationwide."
While the DrugCheck NxStep Onsite Drug Screen Cup is now Health Canada Class III approved in Canada, the device has been FDA 510(k) cleared-to-market for 17 drugs and detection levels (cutoffs) in the U.S. for several years. FDA 510(k) clearance allows the NxStep Onsite Drug Screen Cup to be used in the U.S. for pre-employment, random, and reasonable cause screening, as well as corrections, clinical, and hospital settings. The additional seven drugs and cutoffs approved by Health Canada for inclusion in the Drug Screen Cup are currently available in the U.S. as forensic use.
The DrugCheck NxStep Onsite Drug Screen Cup rapid test provides results in five minutes and can screen for up to 15 drugs of abuse simultaneously. It combines a collection cup and testing device for rapid results, convenience, and accuracy. The self-contained urinalysis screening cup detects the presence of drug metabolites in minutes, using Substance Abuse and Mental Health Services Administration (SAMHSA) cutoff levels. Simply collect urine into the cup, remove the privacy label, and read the results in five minutes. Presumptive positive results are confirmed at a laboratory.
As an ISO 13485:2003-certified manufacturer, Express Diagnostics met the requirement of Health Canada Medical Devices Regulations that all Class III medical devices be designed and manufactured under ISO standards for medical device manufacturing.
Learn more about the Health Canada Class III approved DrugCheck NxStep Onsite Drug Screen Cup at drugscreencup.com.
About Express Diagnostics Int'l, Inc.
Express Diagnostics Int'l manufactures and distributes DrugCheck® on-site urine and saliva screening devices for the detection of drugs of abuse, as well as a growing catalog of health screening devices. With accuracy comparable to laboratory testing, Express Diagnostics onsite devices provide a variety of industries fast, cost-effective alternatives to higher-priced lab services. Learn more at drugcheck.com.