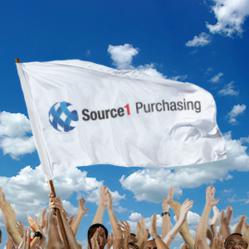 Source1's negotiated buying programs provide the market with new options
(PRWEB) June 18, 2013
Source1 Purchasing is pleased to announce new services that empower operators to not simply access lower prices, but also reduce operating costs, ensure consistent product quality and achieve higher customer satisfaction.
"Overall, programs like Source1's negotiated buying programs provide the market with new options. Customers can choose to keep their own signature deals, add new programs and lastly, source independent deals that fill any gaps in the program," says Scott Hoffmire, President and CEO of Source1 Purchasing. "This new flexibility brings optimal cost saving and blanket coverage over critical purchases throughout all operational areas. We're proud of the fact that our program is expansive…from parking lot to rooftop."
Customized Programs to Meet Marketplace Needs
To meet the rapidly escalating need for efficiency while responding to the expectations of more selective consumers in the marketplace, Source1 offers two programs customized for different target segments (or a range of operation sizes and requirements). First, the Buyers' Marketplace is designed for single-unit hotels, restaurant groups, casinos and private schools. This is where operations link to a buying group and obtains discount prices by utilizing over 500 national brand contracts – all offering quality, name brand products via a pre-negotiated national contract, delivered by a nationally-recognized distributor, Sysco. Operators gain access to real savings on food and beverage items, as well as supplies for other areas of their operation including front of house and back of house. They also have access to rebate opportunities that Source 1 collects and allocates quarterly with special distribution incentives like prompt pay, delivery size and pricing level incentives.
Priority Track is another buying program designed for multi-unit hospitality groups, larger casinos, theme parks, resorts, etc. This program offers the same advantages as Buyers' Marketplace, but also includes a universal range of categories from F&B to capital equipment to small wares to maintenance and lawn supplies and administration products, resulting in a greater savings potential obtained from contracting pricing at the lowest price across the board.
Rather than simply becoming another provider, Source1 assumes the role of partner, enabling clients to focus on innovation within their operations while Source1 provides support in the area of program access, analytics and recommendations. In a time where every dollar matters, the increasing role of a smart purchasing solution that brings the right products at the right price to clients has revolutionized the way food and supply purchasing is being done.
About Source1 Purchasing
Source1 Purchasing has been a leading provider of supply services to the lodging and hospitality industries for more than fifteen years. Focusing specifically on cost management, savings and operational efficiencies, the company offers clients a comprehensive suite of services, empowering operators to access lower prices, reduce operating costs, ensure consistent product quality, and achieve higher customer satisfaction for their customers.