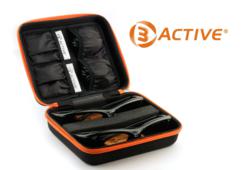 This is something I've been waiting for, for the last 2 years since I bought my 3D TV and 3D Glasses.
San Luis Obispo, CA (PRWEB) June 20, 2013
Looking to organize your 3D glasses and accessories?
Offered exclusively by Dimensional Optics, 3ACTIVE® premium 3D storage products provide consumers with an inexpensive alternative for protecting their high-priced 3D glasses.
Manufactured from high quality fabrics and materials, 3ACTIVE® 3D storage products offer home entertainment enthusiasts with "best-in-class" features and benefits:

Custom Designed to Accommodate all Major Brands
Keeps 3D Glasses Clean and Ready for Use
Durable Zippered Closures
Stitched Elastic Storage Pockets
Includes Microfiber Cleaning Cloths
Available in Single and Twin Pack Sizes
Amazon Customer Reviews:
"I just received the four cases today and I have to say that these are super nice cases! They are zippered, hard shell with a neoprene type lining on the outside. The inside of the case has a cleaning cloth (comes with case) and a place to put the USB charging cord on one side. I was pleasantly surprised with these cases! I wanted to protect my expensive 3-D glasses and also have a case that I can easily open. These cases are the ticket! And the price was super reasonable! You will be glad you bought these!" - K.A.P (Iowa)
"This is something I've been waiting for since I bought my 3D TV and 3D Glasses. This is a great sturdy case that looks as though it will outlast the glasses! This case has turned up just in time now that my son is toddling around. Need to put the case out of reach as he loves zips." - J. Harvey (U.K.)
See more 3ACTIVE® customer reviews.
Browse the complete line of 3ACTIVE® premium 3D accessories at DimensionalOptics.com today!
Dimensional Optics - Expanding Visual Horizons®
Dimensional Optics Inc
3590 Sacramento Drive, Suite 130
San Luis Obispo, CA 93401
(877) 548-8450