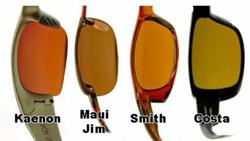 The Kaenon Polarized Copper-12 lens was judged to be the best overall lens for fishing by 100% of the evaluators.
Dallas, TX (PRWEB) June 17, 2013
Prescription Fishing Sunglasses were the major component in this comparison, but the non-prescription lenses for most of the major players are exactly like the prescription version. The brands tested were Kaenon, Costa del Mar, Maui Jim, and Smith. Details from these comparisons are posted on the ADS Sports Eyewear web site.
The Kaenon Polarized Copper-12 lens was judged to be the best overall lens for fishing by 100% of the evaluators. This allowed fishermen to see more detail in the water, and see deeper into lakes and streams. The Kaenon lenses also had the tightest polarization filter.
Prescription Kaenon Sunglasses are made from a polarized SR-91 material that contributed to their impressive showing. SR-91 is a Trivex-like lens material that has a much higher ABBE value than polycarbonate (30 for polycarbonate, 45 for SR-91). This higher ABBE value eliminates peripheral color distortions and blue light issues. Kaenon's Copper SR-91 lens is available in three levels of darkness: 12% light transmission, 28%, or 50%.
Costa del Mar lenses also did very well in this amount-of-polarization comparison. But inconsistencies in the lens colors made it more difficult to evaluate the levels of contrast created. We had 12 Costa sunglasses that were the Copper 580P or 580G color. It was difficult to find two of them that were exactly the same color. In general the Costa copper lenses had more yellow than any of the other lenses. They also have an Amber lens that has even more yellow than their Copper lens. Yellow makes objects appear brighter, but provides minimal contrast. Yellow is useful in low light situations but not in full sun. The 580 lenses have a 12% Visible Light Transmission, so these are too dark for low light. Their prescription lenses have even more inconsistencies than just color. The prescription version of 580P is made from a Trivex lens material. A 580P non-Rx lens is polycarbonate.
The Smith Polar-Chromic glass lenses were the most versatile fishing lenses, but these are not available in prescriptions. This was the only polarized fishing-specific lens that is both polarized and darkens in brighter sunlight.
Maui Jim prescription lenses are generally finished faster than any of the other brands. The Maui Bronze and Rose lenses have always been very popular contrast colors, and these are very soothing to wear.
As expected, each brand had at least one Polarized Copper and at least one Polarized Grey lens. In general, copper lenses are preferred in lakes and streams, where grey lenses are preferred in deep water. There was minimal color difference in the grey lenses. The most significant difference was the amount of polarization. So once again Kaenon was the favorite.
In summary, testing showed that the Kaenon lenses provide the best contrast and allowed fishermen to see more and see deeper into the water. The testers went in expecting much more from the Costa lenses. Costa sunglasses are intended to be fishing specific, and they were the most expensive glasses included in these tests. Maui Jim and Smith both have very impressive lenses, and they deserve the stellar reputation that they have enjoyed for decades.
ADS Sports Eyewear has specialized in prescription sports sunglasses for over 10 years. Their prescription sunglasses inventory can be found online at ADSEyewear.com.