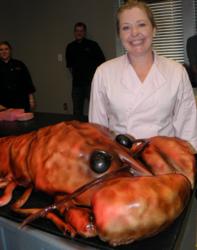 Returning for her fourth year, Food Network Cake Champion Bronwen Weber will bring her talent to the Icing on the Cake stage.
Shreveport-Bossier, LA (PRWEB) June 18, 2013
Quota Club of Shreveport's Fourth Annual Icing on the Cake Competition will be held on Saturday, July 13 at Bossier Parish Community College, 6220 E. Texas Street, Bossier City, La. Cake artists from around the region will be featured in the competition. The competition is open to the public for general viewing, 10 a.m.-5 p.m., in Building F on the college's campus. Tickets are $5 for general admission or $20 for an all-access pass, which includes admission to all classes and demonstrations being offered throughout the day.
Returning for her fourth year, Food Network Cake Champion Bronwen Weber will bring her talent to the Icing on the Cake stage. A number of activities will be offered throughout the day, including basic cake decorating, gumpaste flowers, ice sculpting and working with isomalt.
The event will also include a live "team cake-building challenge" competition, where teams of five experienced bakers will go head-to-head in a timed contest using only items concealed in a mystery box to be opened immediately before the competition. The live contests begin at 10:30 a.m. and 1:15 p.m. and are expected to last two hours each.
The theme for this year's event is "Greeting Cards." Registration has begun for bakers of all skill levels, from amateur to professional, in a variety of categories including wedding, theme, special occasions and all buttercream. Those who register by Friday, June 28 will receive a free commemorative t-shirt. Registration is open until the morning of the event; however, a late registration fee will be applied.
All proceeds from the event will benefit Bossier Parish Community College Culinary Arts Program and Quota International of Shreveport. Quota International of Shreveport is an organization dedicated to serving the community by providing a valuable service. Quotarians enjoy making a difference locally and internationally. Lunches will be available to purchase and vendors will be on hand selling a variety of creative tools and tasty treats.
Some of the participating sponsors of Icing on the Cake include: Solutions for Today, LLC, Healthy Chef Meals, AEP Swepco, Little Realty Inc., Horseshoe Casino, CalJava International and PINNACLE Asset Management.
For more details, to register or for ticket information, visit http://www.QuotaIcingonTheCake.com. For more information on things to see and do in Shreveport-Bossier, visit http://www.shreveportbossierfunguide.com.