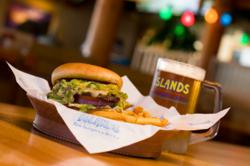 SAN DIEGO, Calif. (PRWEB) June 18, 2013
Islands Restaurants, known for specialty burgers, ice-cold brews and a laid back, beach atmosphere, is welcoming summer with all-new seasonal menu items. Beginning June 17, Islands guests can conquer post-surf hunger with the new Heat Wave Burger, summer shandies, boozy shakes and a brand new Saint Archer beer.
"The Heat Wave is the perfect burger for summer," said Islands Vice President of Marketing Renee Junge. "As the name implies, this is a spicy burger that balances well with an ice cold craft brew or one of our new refreshing summer drinks."
Topped with grilled green chilies, fresh Serrano chilies, pepper jack cheese, tomato, onion, lettuce and spicy mayo, the Heat Wave packs a spicy punch and pairs perfectly with a Saint Archer Blonde Ale. Guests can also cool off with the following refreshing summertime beverages:

Shandies – The original I-Shandy with ice cold Islands Golden Ale, lemonade and mango; and the Ginger Berry Shandy with ginger beer, Islands Golden Ale, lemonade and wildberry. Both varieties of Shandies will be available for a special lunch time price of $3.95.
Boozy Shakes – The Coco Colada Shake with Capitan Morgan, fresh pineapple, coconut, vanilla shake and Meyers's Rum topped with whipped cream and roasted coconut; and the Irish Shake with Kahlua, Jameson, Irish Whiskey and vanilla shake.
Sangrias - The Sunset Sangria with Woodbridge Cabernet, brandy, sweet & sour, cranberry and wildberry juice; and the Moonlight Sangria with Woodbridge Pinot Grigio, Domaine de Canton Ginger Liqueur, sweet & sour, pineapple juice and Sprite topped with fresh mint
Saint Archer Blonde Ale – Described as a clean, crisp malt, this local craft beer uses Noble hops imported from Germany and is an ideal beer to recharge from the summer heat. Saint Archer is a new San Diego-based brewery, which boasts a crew of pro surfers, skateboarders and snowboarders.
For more information about Islands Restaurants, please visit http://www.islandsrestaurants.com. Like us on Facebook at https://www.facebook.com/islandsrestaurants.
About Islands Restaurants
Founded in 1982, Islands is privately held and has managed controlled but steady growth, with a focus on providing the finest quality food and an outstanding guest experience. Islands offers specialty burgers, soft tacos, fresh salads and exotic drinks in a beach-inspired atmosphere. The Carlsbad based company operates 53 restaurants throughout California, Arizona, Nevada and Hawaii. For more information visit http://www.islandsrestaurants.com.