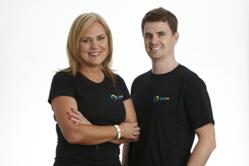 The mobile workforce job management company will have its app available through Telstra's T-suite platform.

The new partnership cements what has been a period of significant growth for GeoOP. 43% of their customer base is already in Australia
Auckland, New Zealand (PRWEB) June 24, 2013
Auckland, Tuesday June 18th, 2013, GeoOp Limited is set to significantly grow its presence in Australia with a signed partnership deal with Telstra, to distribute GeoOp via Telstra's T-Suite platform. GeoOp's cloud-based technology replaces service and trade industries' business processes which involve paperwork, so admin and mobile workers can work more efficiently in real-time. Partnering with Australia's leading telecommunications and information services company means GeoOp will have the support of Telstra's vast number of staff and business centres and 1500 Telstra T-Suite dealers around Australia actively promoting it.
Leanne Graham, CEO at GeoOp, regards the new partnership as a key part of GeoOp's plans for accelerated growth. "This deal enables one of the biggest brands in Australia to use their staff channels to further market GeoOp and provide a business application that makes a real difference to business cash flow and the productivity of mobile workforces.
"We always recognised one of the key channels to market were telecommunication companies because they own the mobile space. GeoOP wants to create further strategic partnerships with telcos and make mobile devices and tablets even more relevant for people in service and trades."
Nicholas Bartlett, the Founder and MD for Australia, says this is just the start for GeoOp. "We are committed to being the number one mobile workforce management provider in Australia. "This partnership helps us move more swiftly towards that goal and fulfil our purpose of transforming trade and services businesses. It's a great marriage of two great companies."
According to Graham, this new partnership cements what has been a period of significant growth for GeoOp. Australia accounts for 43% of its customer base already.
In order to sustain this growth without compromising service, GeoOp has grown its Australian team. Founder Nicholas Bartlett is the MD for Australia, Rod Millynn will move into the role of Australian Sales Manager, Tamara Pešnjardo is the Marketing Manager, Gayatri Wood is the Partner Education Manager and Braydan Willrath the Partner Enablement Manager .
About GeoOp Limited
GeoOp Limited was formed in 2009 and currently has offices in New Zealand and Australia and a team of 21. Its customers span world-wide including other markets like the UK, USA, Canada, South Africa, Panama, France, Germany, Netherlands, Singapore and India.
GeoOp saves time and frustration with real time information. Job sheets are delivered and updated instantly, scheduling is effortless, important files, forms and documents can be accessed on site, rich media such as photos, customer signatures and audio can all be attached to the job and charges can be invoiced instantly. Any changes to jobs using GeoOp Online trigger instant notifications to mobile workers via their devices. Integrations with other leading business products such as Xero, Freshbooks and Unleashed enable GeoOp customers to eliminate data entry and streamline their operations.
The vision for GeoOp is that every plumber, IT technician, electrician, handyman, cleaner, health care worker, appliance repairman, pest controller, landscaper … any mobile worker… rid themselves of old inefficient paper based and hard to manage workflow systems. Instead, with GeoOp they have a simple, affordable solution that takes full advantage of the Cloud and workers' smart devices to deliver service at a fraction of the cost of pen and paper.
For further information see http://www.geoop.com