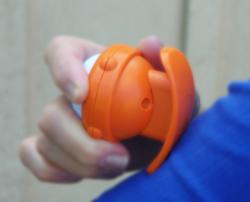 My son has major on and off pain due to his liver transplant and growing pains. He is 13 and we have been using the Zippy roller on his back and legs and have found he is having to take less motrin the more he uses it.
Phoenix, AZ (PRWEB) June 27, 2013
Zing Partners LLC manufactures, and distributes Zippy Rolling Ball Therapy (RBT) massage devices and the Zippy Soother in Phoenix, AZ. Zing Partners is announcing the filing of patent applications for Zippy RBT massage devices and the Zippy Soother deep tissue device. Zippy RBT devices combine a golf ball (the perfect size and shape for massage!) with a durable, precision molded shell to offer relaxing massage anywhere. Zippy Soothers are an innovative improvement on thumb/hand saving massage devices for health care professionals and savy, self-aware athletes and personal users. Zippy massage devices were invented and developed by Zing Partners LLC for presentation to the healthcare profession and personal users at large. Zippy RBT devices are poised to invigorate the use of golf ball massage in a professional setting as well as bring the benefits of golf ball massage to the general public for self-care use. Zippy Soother devices introduce an elite level of deep tissue massage device for health care pros. http://www.zippymassage.com
Zippy RBT devices are used daily by athletes, personal users (including a growing number of senior citizens), and is finding a place in the "toolbox" of nearly every type of professional therapist. When you are looking for peak performance, soft tissue mobilization and relaxation, with the delivery of exceptional results Zippy RBT devices deliver all this from a device that fits comfortably in the palm of your hand. Zippy massage tools are a natural to relax sore muscles, work tissue around joints or scars, sooth deep muscle injury, untie "knots", and sooth spasm. Keep one (or more) in the freezer for convenient, dry, cold therapy on the spot.
Zippy RBT devices come in three models: Basic, Rocker Handle, and T-Handle. The Rocker and T-Handle models expand grip opportunities and provide additional integrated therapy toolsets and surfaces for additional functionality anytime, anywhere. Zippy RBT devices are compact, convenient to carry and use, readily accessible in golf bag, purse, pocket, glove box, nightstand, and sports bag. They are excellent to use when frozen for "spot on" cold therapy. Please visit http://www.zippymassage.com for more information.
Zippy Rolling Ball Therapy massage devices are available online at http://www.zippymassage.com and on Amazon. Check out the Zippy RBT YouTube Channel. http://youtu.be/ajJWhzr1c5M. Visit Zippy RBT – Rolling Ball Therapy on Facebook and "Like". Follow @ZippyRBT on Twitter.
Zippy Rolling Ball Therapy devices have been submitted for the 2013 Core77 Design Awards.
Zing Partners LLC will donate $5 to Hoil Heroes Foundation to assist pediatric transplant patients and their families through August 31, 2013 for each device purchased online.