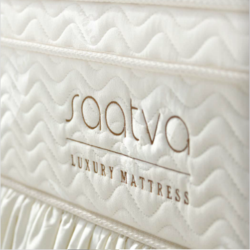 New York, NY (PRWEB) June 18, 2013
Saatva, America's fastest growing exclusively online mattress retailer, is expanding local shipping into Arizona. With the expansion of local shipping into the Phoenix area, this brings the luxury mattress company's local delivery reach to 19 of the top 20 most populated cities in the US. Additionally, with 6 factories and 23 fulfillment centers, Saatva continues to provide extended white glove delivery coast-to-coast.
Saatva has simultaneously launched a new video that educates mattress shoppers on how the online-only company is disrupting the industry with an innovative business model and cutting edge sleep technology.
As its new video illustrates, without physical stores Saatva eliminates several costs associated with traditional mattress outlets, including commercial rent, commissions, and inventory inefficiencies. Thus, the company is able to offer ultra-premium luxury mattresses at up to 70% off what brick and mortar retailers ask for comparable products. Essentially, Saatva can offer the latest mattress technology, using green and organic materials, for a price far below the normal market rate. According to CEO Ron Rudzin, "We believe our business model is an absolute win-win for the consumer, with a much better and greener product at a truly unmatched price."
Saatva's luxurious and eco-friendly mattresses, combined with its industry-changing and cost-saving business model, have earned the company the prestigious position of being Google's best reviewed mattress in 2012/13 with a 4.9 rating over 1000 reviews.
About Saatva
Saatva is based out of Westport, CT and Austin, TX. Over the last several years, by providing the best overall service and value in their industry, Saatva has grown from a mid-sized regional luxury mattress company to one of the largest online-only mattress companies in America, shipping coast to coast. The Saatva executive team has extensive experience in retail and e-commerce, working in the past with companies such as Brookstone, Rosetta Stone, Men's Wearhouse, Facebook, and Apple.