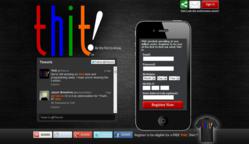 Sioux Falls, SD (PRWEB) June 18, 2013
The team at Thit! is pleased to announce it has registered over 170,000 users. Last fall, Thit! launched a campaign to reward pre-registered beta testers with a free Thit! t-shirt. Interest in what the up and coming website will be sent registration for this campaign skyrocketing and it well surpassed the 100,000 registrant goal. Over the last few months Thit! has sent out tens of thousands of t-shirts to the new users who are anxious and excited to be one of the first to find out what Thit! is all about.
Thit! is a technology company where users can register at Thit.com to be one of the first to know what Thit! will be. Users can register through the website as well as follow the company on Facebook and Twitter.
With the recent surge in registration, Thit! expects to launch in the fall. According to Thit.com, the website will launch once it has reached one million users. This goal may seem far off, however the team at Thit! is confident that with the momentum the site has gained, it will launch much sooner than later. Speculation and anticipation about what the website will be has been building which is also driving interest and users to the site.
About Thit.com
Created in 2011, Thit!, Inc. is a privately held technology company. Thit! plans to launch after one million people have registered for the product unveiling at Thit.com. For more information, visit Thit.com, email whatisit(at)thit(dot)com, or follow Thit! on Facebook and Twitter.