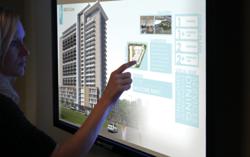 Both TouchTour and ActiveBuilding are utilized separately by some of the biggest names in multi-family real estate, adds Steiner.
Denver, CO (PRWEB) June 17, 2013
Engrain (http://www.engrain.com) today announced a business relationship with ActiveBuilding (http://www.activebuilding.com), developers of resident retention and communication products for multi-family properties. The integration of the two systems enhances the TouchTour platform and provides for package delivery notification, community-wide messaging, amenity reservations, service requests, rent payments and more.
"While TouchTour and ActiveBuilding are two separate systems behind the scenes, as a resident or a property manager, you are presented with one intuitive interface," said Brent Steiner, Engrain president and CEO. "It's a testament to the power and flexibility of both systems that users don't miss a beat when moving from one of the many native TouchTour functions to things handled by ActiveBuilding. The integration extends TouchTour's 'resident reach' capabilities."
While property owners must purchase a TouchTour system and pay a monthly fee for the ActiveBuilding software, there is no additional cost for this integration.
"We're truly consumed with two things: Enhancing the sense of community for residents, and simplifying operations for staff," said Kobi Bensimon, ActiveBuilding CEO. "Allowing users to access ActiveBuilding from the TouchTour platform amplifies our ability to meet those goals."
"Both TouchTour and ActiveBuilding are utilized separately by some of the biggest names in multi-family real estate," adds Steiner. "When you see the two products working in tandem, you understand why there is high demand for this integration."
About Engrain
Engrain is a leading provider of immersive touch screen technology and award-winning digital branding and design services for the luxury real estate market. Its TouchTour™ system is used at some of most prestigious properties in the country. Founded in 1995 and based in Denver, the company works with clients throughout the U.S.
For more information, please contact Audrey Bolema, 303-903-3863 or audrey(at)engrain(dot)com.
About ActiveBuilding
ActiveBuilding, a Seattle-based company, provides exclusive, online community portals for resident and staff communication in the multifamily housing industry. ActiveBuilding's enhanced level of communication creates a sense of community and assists with resident retention, as well as providing more efficient, paperless operations for multifamily management teams on a national scale.
For additional information, visit (http://www.activebuilding.com ) or contact ActiveBuilding at info(at)activebuilding(dot)com or 888-304-5220.