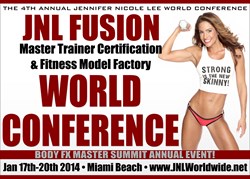 Jennifer Nicole Lee announced recently that the opportunity to apply and to be "JNL-Approved" to attend the 4th Annual JNL World Conference is now open at www.JNLWorldwide.net
Miami Beach, FL (PRWEB) June 18, 2013
Jennifer Nicole Lee announced recently that the opportunity to apply and to be "JNL-Approved" to attend the 4th Annual JNL World Conference is now open at http://www.JNLWorldwide.net
Every January, on Martin Luther King Holiday Weekend, Jennifer Nicole Lee hosts what is being touted as "the worlds best fitness retreat" where women can come and reconnect with their goals, passions, and true purpose in life.
The attendees come in from every corner of the globe to become JNL Fusion Master Certified Trainers, to enjoy Fitness Model Factory photos shoots, powerful life changing "fun-shops", engaging key note speeches from the worlds most prolific leaders in the wellness and fitness industry.
This year, many Body FX Founding charter coaches and success advisors will also be in attendance due to the huge success of the Body FX supplement line.
With JNL Fusion in such high demand, the JNL Fusion is named one of the world's top fitness trends and is predicted to be in demand for a very long time. JNL Fusion is a superior training method due to its focus on functional fitness, improving your ability to do activities that many encounter in everyday life, leveraging strength training to boost balance, coordination and power.
"JNL Fusion will not only make you stronger while you work out, but for your everyday life to dos-thus making you a better mom, better dad, wife, husband, office worker…plain and simple, JNL Fusion will make you perform better in your life as it makes you more efficient, effective and yes, 'Strong is the New Skinny" as I always have said". JNL Fusion founder, Jennifer Nicole Lee.
When asked what makes the Jan 17-20th 2014 World Conference better than the pasts, JNL answered "Well, for many reasons. First of all, with the huge success of the JNL Fusion workout method, to the new launch of our Body FX supplement line that is second to none, and how large and global our 'JNL Fusion Family' has grown, the demand has truly quantum leaped. Im thrilled to be changing lives, and impacting so many at my world conference. The greatest thing in the world is to see real women, gain real empowerment and get real results."
This past January 2013's success is still being celebrated. The JNL World Conference 2013 was jam packed with priceless information that all of these women will be able to take home and use. It was a weekend of learning and making strong friendships that will bond them forever.
There were powerful, valuable messages given by several key note speakers. All of the attendees left the conference as Certified JNL Fusion Master trainers, trained in one of the most effective fitness methods in the world. Not only are they using the JNL Fusion method they were introduced to an up and coming supplement company Body FX. This company will bring supplements to the world that will have life changing benefits to all who use them.
For more information, please visit http://www.JNLWorldwide.net