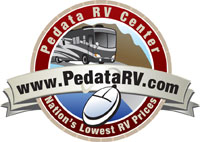 We have issued this advisory to help raise awareness of the importance of keeping food fresh, safe and healthy.
Phoenix, AZ (PRWEB) June 20, 2013
Pedata RV Center, the leader in used motorhome and used recreational vehicle sales, warns campers that improperly handled food can cause bacterial illness that can lead to severe health consequences.
Now that summertime has arrived, many RV campers are enjoying the pleasures of the warm weather by dining al fresco. Whether they are eating outdoors at the campground or dining at a patio dinner party, dangers of mishandled food are ever present and should be avoided at all costs.
While dangerous bacteria cannot always be seen, smelled or tasted, they may still be present. The harmful bacteria that can cause foodborne illness, otherwise knows as food poisoning, grow rapidly in the danger temperature range between 40˚F and 140˚F. If food is transported without a way to keep it at the proper temperature, it will not remain safe to eat for very long. This is also the case for food that is left in the warm weather at a picnic. If humans ingest these bacteria, it can cause symptoms that are flu-like in nature, and could lead to illnesses of more severity.
Pedata encourages travelers to observe the following safety tips for packing and preparing edibles:

Try to avoid over-preparing. If you properly estimate the amount of food to cook, you can avoid the worry of having to store leftovers.
Make sure that all of the utensils, as well as the work area, are cleaned and sanitized, and that your hands are washed before touching any food.
If you are preparing foods ahead of time, make sure to allow ample time to properly chill the food thoroughly. Use an insulated cooler with dry ice or ice packs to keep the food below 40 ºF.
Any take-out food, such as fried chicken or barbeque beef, should be eaten within two hours of purchase. If this is not possible, be sure that the food is cooled and stored at the appropriate temperature until you are ready to heat it up and eat it.
Avoid cross contamination of raw meat with prepared food. Double wrap the meat or place it in a sealed bag, and avoid storing other foods against it.
If the weather is warm, don't carry the cooler in the trunk; keep it in the air-conditioned car.
Keep an eye on the cooler at picnics. Make sure it stays in the shade, and that the ice stays replenished as needed.
Keep your drinks in a separate container than the food. This will avoid excessive opening and closing of the food cooler.
Don't leave the food out on the table (unless it is being served). It should be returned to the cooler if it is going to sit for a while.
Assure that bacteria are destroyed by cooking red meats, such as burgers and steaks, to 160 ºF (medium doneness). Poultry should be cooked to 165 ºF.
Do not partially cook extra meat to be used later. Once you begin grilling, make sure to complete cooking the food so that all bacteria are destroyed.
When removing food from the grill, place it on a clean plate to avoid cross-contamination. Don't place the cooked items on the same platter that the raw meat sat on.
Gerard Pedata of Pedata RV Center said, "We want all of our customers to stay safe this summer. Food poisoning can lead to a ruined vacation, and could have serious health ramifications. We have issued this advisory to help raise awareness of the importance of keeping food fresh, safe and healthy."
Pedata RV Center offers used motorhomes for sale, as well as used RVs, travel trailers, fifth wheels, and campers. Their full inventory is accessible online, and due to their low overhead costs they are able to offer competitive pricing in their industry.