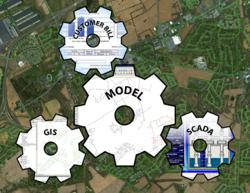 Because the integrated model is well calibrated and easily updated, LCA can optimize operations and water quality throughout its distribution system.
Camp Hill, Pennsylvania (PRWEB) June 18, 2013
Gannett Fleming, engineering consultant, and Lehigh County Authority (LCA) collaborated to develop a computer model for the authority's 18,000-customer water system integrating a geographic information system (GIS), customer data, and system controls to help meet its mission of providing continually improved, sustainable, and reliable water service to its customers. The innovation has captured global attention.
"With links established to our GIS, customer data, and supervisory control and data acquisition (SCADA) system, we know that our model can be easily updated as our water system continues to grow," said Emily Gerber, a GIS analyst with LCA.
Flexible and well calibrated, the integrated model enables LCA to better evaluate and optimize operations and water quality throughout its distribution system. The model:

Simulates a snapshot of water system conditions, ranging from average day, maximum day, and peak hour demands to time variances for water trace and age analyses.
Avoids tedious manual updates common with traditional water system models.
Overcomes typical integration hurdles.
Gerber and Michael Mehaffey, P.E., a water hydraulics expert with Gannett Fleming, presented modeling project merits during the Bentley® 2012 Be Inspired Innovations in Infrastructure Conference awards competition in Amsterdam, The Netherlands. The project was a finalist in water, wastewater, and stormwater networks, the program's most competitive category. It also is featured as an extraordinary infrastructure project in Bentley's® 2012 Be Inspired publication.
Using Bentley® software and original Gannett Fleming scripts, the LCA integration project seamlessly connects with existing databases, while allowing each data source to be managed independently. This sustainable process maintains data integrity throughout the model's life cycle.
About Lehigh County Authority:
A longstanding Gannett Fleming client located in Allentown, Pa., LCA is a water and wastewater authority that serves approximately 20,000 customers through 13 water systems and six sewer systems. The integrated water model was built for LCA's largest water system, reaching approximately 90 percent of its customers and handling an average daily demand of 6.5 million gallons per day (mgd). This system includes 260 miles of distribution, five pressure zones, 18 wells, three booster stations, and four storage tanks.
About Gannett Fleming:
Gannett Fleming is a global infrastructure firm that provides planning, design, technology, and construction management services for a diverse range of markets and disciplines. With 2,000 employees, we have helped to shape infrastructure and improve communities through transportation, environmental, water, energy, and facility-related projects in more than 65 countries. The firm embraces sustainability and innovation for all activities, finding the best solutions and the most efficient processes while being responsible stewards of the environment. Founded in 1915, Gannett Fleming had $305.6 million in revenues in 2012 and has more than 60 offices around the world. We are proud to be ISO 9001:2008 Certified.
###