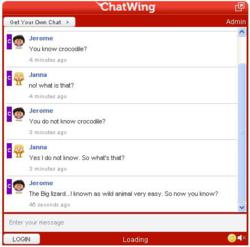 Portland, OR (PRWEB) June 18, 2013
Global convergence, according to many online professionals, is one of the important tenets that must be fused with all online businesses today. With the help of global convergence, an online business can reach various customer groups within a cycle. Operating on this premise, Chatwing.com launched a new chat app feature: the chat network. The main goal of the feature is to give a high rate of communication leverage for thousands of web users across the world.
Global convergence is important to businesses. This factor alone raises the exposure rate of any business, product, or service. Chatwing's developers kept this in mind while creating the chat network system. The developers believe that many users from different niches can benefit a lot from a chatroom that is linked to others' chatrooms. With this feature, there will be more spontaneous and informational conversations.
To set up the chat software system, the user must first register in the Chatwing homepage. He just needs to enter his email address and desired password—no need for confirmation links. After that, he can now go to the dashboard and select any of the chat networks available. There is already a default chatbox, but the user can setup his design from scratch. Different customization choices are available such as color schemes, background images, MP3 links, and other user-based parameters.
It took the Chatwing Team more than four months to come up with such an innovative feature. Currently, the team is conducting technical checks to ensure that the chat widget will perform at optimum speed while hosting many chat networks. Feedbacks and suggestions are currently accepted and entertained at Chatwing's official Facebook page.
About Chatwing.com
Chatwing.com specializes in the new field of website chat. Over years, the Chatwing team has introduced live chat widget for hundreds and thousands of blogs. The Chatwing application bridges people from many parts of the world, creating global synergy through the Internet. The shout box can be installed in just seconds, and it can be used for varying purposes such as leisure and Internet marketing. It also allows a user to customize the size, color, and name of the widget. Chatwing is the top rated chat app.