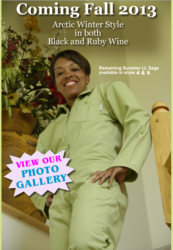 www.Fashion-Product-Sourcing.com has opened it's doors to designers with last minute orders for fashion product manufacturing to be ready for the Fall and Winter Fashion Season
Guangzhou, China (PRWEB) June 17, 2013
From Florida to Chicago to Texas, fashion designers are rushing to put their finishing touches on their 2013 Fall and Winter Fashion Collections and, though very late in the manufacturing calendar, are looking for reliable manufacturing in China to receive their fashion goods in time for the Fall and Winter season.
Manufacturing expert and veteran fashion product manufacturer, Winnie Peng, has seen this pattern before and warns fashion designers and importers that while every effort will be made to accept their garment and accessory manufacturing orders produced, shipping may still be a challenge.
"Many fashion designers lose track of time when the warm weather comes," says Peng, "and forget that their designs still need to go through the routine stages of prototype making, getting final approval, transfer of funds, making the final product at the factory and then add a month of shipping in order to get the lowest cost.
"Unfortunately, when starting at this late date, by the time some designers' products are made, the only way to get them on the shelves is to fly the product in, and that unnecessarily lowers their profits dramatically."
Seasoned fashion design companies, such as http://www.ShopBodyCovers.com, start planning many months in advance to get all color and specification issues squared away in order to leave sufficient time for sea shipping of their goods in time for the season.
"Whether dealing with designer fashions, jewelry production, shoes or even back packs, Fashion-Product-Sourcing.com will still try to get orders produced for our designers to meet the Fall and Winter deadlines," says Peng, "but partial shipping may need to be by air with the bulk following a few weeks later if the importing designer wants to be stocked for the start of fall sales."
About:
Winnie Peng is an expert in fashion manufacturing and currently Senior Project Manager for China Product Sourcing and Marketing Ltd. (CPSM). She was previously Senior Inspector of Quality Control and Corporate Compliance for Best Seller of Hong Kong, supplier of Europe's largest fashion retail group, Best Seller.
CPSM, fashion manufacturer, is a leading producer of fashions, fashion accessories and footwear for independent fashion designers and footwear importers around the world, since 2006. Fashion-Product-Sourcing.com.
Contact:
Winnie Peng
email: winnie.chinaproduct(at)gmail(dot)com
Tel (USA) 1- 336-775-8615,
Tel (China) 136-6233-4753
Skype: winniethepooh9
About:
Lexis Global Marketing LLC (LGM) works with client companies to develop and implement their marketing programs and strategies, domestically and internationally. http://www.LexisGlobalMarketing.com
Contact:
David Amos, Director
Lexis Global Marketing LLC.
Tel 1-336-817-7376
Email: damos(at)lexisglobalmarketing(dot)com
Address:
931-B South Main St., Suite 154, Kernersville NC USA 27284