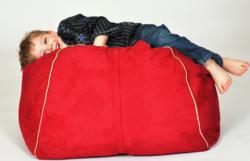 Kids like the colors and comfort, while parents appreciate the quality of our Bean Bag Jr. chairs.
Charlotte, NC (PRWEB) June 19, 2013
Booty Bean Bags' brand new Bean Bag Jr. chairs are made for kids, but they were designed with parents in mind. "Parents spent a fortune on kid-sized chairs that their children outgrow in no time," explains Nathan Welch, owner of The Man Chair Co., the North Carolina-based furniture producer and manufacturer of Booty Bean Bags. "But our pint-sized bean bag chairs remain functional, fun, and a perfect size a child making the transition from toddler to tween."
Safety First
There are six chairs in the company's new just-for-kids line of beanbags, made with the same precision and attention to detail as their adult-sized counterparts. Each has its own whimsical, kid-friendly name such as Biscuit Bag Jr., Party Pillow Jr., and Sac Back Jr.
Bean Bag Jr. chairs are an ideal combination of form and function. "Bean bags are retro-chic and fashion-forward, all at the same time," reports Welch. They are available in a variety of vibrant, youthful colors including Very Cherry, Gotta Have Grape, Fabulous Fuchsia, Blueberry Blast, and 'Lectric Lime. "They add tremendous 'zing' to any room they're in," says Welch, "and can really spice up a drab playroom or kids' bedroom."
The chairs are soft and comfy, "so kids can flop all over them without getting hurt," reports Welch. Additionally, they're low to the ground which can be a real plus when kids are still mastering their walking and sitting skills.
"Kids like the colors and comfort, while parents appreciate the quality of our Bean Bag Jr. chairs," says Welch. "Our products are filled with comfortable shredded memory foam for durability and feature machine washable denim or microsuede covers." Parents also appreciate Bean Bag Jr. chairs' safety features, including child-proof zippers that make it impossible for youngsters to get inside the bean bag.
And because all Booty Bean Bag Jr. chairs are eco-friendly and made in the U.S.A., parents have an extra measure of insurance in the health and safety of their children.
A Chair of My Own
Naturally a little bit "squishy," Bean Bag Jr. chairs are ideal for children to snuggle into to read a book, watch TV, talk things over with a favorite pet, or dream about Candy Land. The Club Jr. is one of the smallest of the Jr. line, a one-seater that gives a child a sense of ownership. "The Club Jr. is wonderful for kids when they're in the 'It's MINE' phase," says Welch. "This is a chair they don't have to share."
The Chofa Jr. provides ample room for side-by-side seating, which makes it a good choice for social kids who enjoy playing video games with friend. It can also be used as a bed, making overnight sleepovers easy and fun.
"With Booty Bean Bags, every member of the family can have a special place of his or her own," says Welch with pride.
To subscribe to the company's newsletter or to request additional information on Booty Bean Bags for kids and adults, or to simply place an order, please click here to visit Booty Bean Bags.
About Booty Bean Bags
Booty Bean Bags are the cool alternative to boring seating. Unlike their vinyl and pellet ancestors of the past, these luxurious bean bag chairs are made with top quality materials including shredded memory foam filling and ultra-luxe microfiber coverings. Colorful, comfortable, and anything but conventional, Booty Bean Bags are perfect for kids, adults, and even pets. Booty Bean Bags are made and distributed by The Man Chair Company, based in Charlotte, North Carolina. For more information and to order, please visit http://www.bootybeanbags.com.