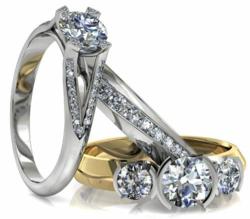 Port Washington, NY (PRWEB) June 19, 2013
Earl Grenfell; a well-established, well-known name in the Port Washington diamond jewelry and watch repair arena, having years of accumulated experience in the field, the expert now publishes his reviews about the gems on his website, regularly. Upon much demand of his fans, the writer also shares the insights of the trade by mentioning some of the most unique tips and tricks that serve as extremely valuable advice for any diamond lover. In the first edition of the article series, the writer goes on to talk about the history of the oft-spoken Antique Cut in diamond jewelry.
The writer begins his article in his usual, informative, yet interactive way by explaining how much people tend to go for things that are unique and a bit traditional. Due to this shift in priorities of people, antique cut diamond jewelry is very much in demand. He then raises the same question which a large number of people do, why is the antique cut so special?
He then explains the various characteristics of the gem that make it so special. Due to the extraordinary design, when light is incident on the surface; it splits in a rainbow due to the utterly delicate composition. This results in an extremely special shine and gloss, which is perfectly suitable for people that adore romantic settings. The glow is ever so special in the dim, modest candlelight, when it really shines is the most manifest of ways. Created specially by old European Miners, the diamonds that exist today have been passed on in families for generations before existing in form today. What's really fascinating is that even though these pieces of art are way too old, their design and cut still isn't even comparable to contemporary diamond cuts. This just goes on to show the level of attention that the creators of the diamond paid to every single detail.
To read the complete Article 1, of the Antique Cut series – By Earl Grenfell, visit: http://www.EarlGrenfell.com.
Stay up to date with the latest pieces of fine custom made jewelry on our Facebook page: http://www.facebook.com/pages/Spellbound-Fine-Jewelry-and-Watch-Repair/115295938561142
About Earl Grenfell:
Earn Grenfell is a renowned Diamond Jewelry expert with over 25 years of accumulated experience. Based in Port Washington, NY, Earl has been a pioneer in high end jewelry designing and manufacturing and is the creator of the famous company Spellbound Fine Jewelry and Watch Repair. Graduating from the Fashion Institute of Technology in Jewelry Design back in 1985, Earl has dominated the Long Island, NY Diamond Jewelry market ever since.
Contact:
Earl Grenfell
290 Main Street
Port Washington, NY 11050
516-767-7700
info(at)earlgrenfell(dot)com
http://www.EarlGrenfell.com