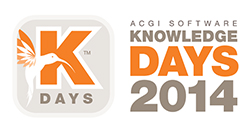 Columbia, MD (PRWEB) June 18, 2013
ACGI Software®, the trusted leader in association management software (AMS), today announced it will be hosting Knowledge Days 2014 (KDays 2014), a users conference for its Association Anywhere® association management system (AMS) clients, at the Baltimore Sheraton Inner Harbor, May 5-6, 2014.
Association professionals attending KDays 2014 will gain an in-depth understanding of how they can benefit from new features in the latest version of Association Anywhere, as well as insights into the product roadmap from members of ACGI's software development team. The conference will also feature best-practice and case study sessions, an industry partner lounge and fun-filled networking events, all designed to inspire and help attendees improve organizational effectiveness, efficiency and member value.
Save the Date
Registration for KDays 2014 will begin in September. With conference planning still in its early stages, ACGI is encouraging interested clients, partners and association professionals to visit the KDays 2014 section of the ACGI website (http:http://www.acgisoftware.com/kdays2014/) to get the latest updates and share their input on speaker and session selection.
Knowledge Days 2014 Social Media
In addition to conference information posted on the ACGI website, KDays updates will be shared on Twitter (@ACGISoftware) and Instagram (@acgisoftware) using the hashtag #KDays2014. ACGI will also post updates on its Facebook and LinkedIn pages.
About ACGI Software:
ACGI Software, Inc., founded in 1996, develops and delivers cloud-based association management software (AMS) and best-practice services. The company's Association Anywhere AMS integrates with an association's Web, mobile and business applications, automating administrative and financial operations, enhancing the member experience and lowering operating costs. Association Anywhere AMS is chosen by leading associations and association management companies. Learn more about ACGI by visiting: http://www.acgisoftware.com.
# # #