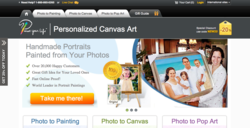 McKinney, TX (PRWEB) June 18, 2013
PaintYourLife.com, the world's leader in providing high-quality, customized art and canvas products, is pleased to announce the launch of five new foreign language websites. As part of their global expansion, Paint Your Life has also opened locations throughout Europe.
The sites are: http://www.maledeinleben.com/, which is in German, http://www.peignezvotrevie.com, the French version of the site, http://www.paintyourlife.it, in Italian, the Spanish version of the site, http://www.pintatuvida.com and http://www.schilderjeleven.nl which is in Dutch. In addition to the new sites, Paint Your Life has launched a studio in Germany, in which framing and other print services are performed, and the company has opened offices throughout Europe in order to better serve international customers.
Each of the newly launched sites fully integrates all of the features and capabilities found on the English-language version of the site, PaintYourLife.com. Customers across the globe will now be able to access the outstanding products and services provided by Paint Your Life in their native language. The company has already earned a reputation as being the worldwide leader in creating customized paintings from photos, as well as top-quality printed photos on canvas and unique photo-to-pop art creations.
"We're very excited to launch these new additions to our company that are going to help all of our customers have better access to all that we have to offer," said Assaf Kostiner, spokesperson for PaintYourLife.com. "Each of the new sites offers the easy-to-navigate interface of our primary English site and no matter what language you speak or where you're located in the world, you'll be able to take advantage of our outstanding products and services."
Paint Your Life boasts over 20,000 satisfied customers and the company hopes to continue expanding its work with clients on a global scale with the introduction of the new websites and international offices. Customers from countries throughout the world will be able to work with the team of talented graphic designers, artists, framers and art directors to create works of art that are reflective of the special moments in their lives, while easily accessing information and service in their specific language.
Paint Your Life is a company that prides itself on providing unparalleled customer service throughout every detail of the ordering and shipping process, and the Paint Your Life team hopes to continue building upon their reputation in the global marketplace as the best service-provider of art and photography-based products.
About Paint Your Life
Paint Your Life was founded in 2006, and features one of the world's largest selections of canvas and art products. All products are designed by a team of professional graphic designers, and each product is created with the utmost quality and attention to detail. The site, which is a leader in the online art industry, has seen tremendous success because of customer and word-of-mouth referrals, and continuously works to develop innovative new ways to cater to an extensive range of needs.