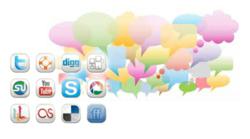 "SYBER's latest social media offering takes the next logical step in the evolution of online social engagement and concentrates on returning meaningful value to business owners."
Annapolis, Maryland (PRWEB) June 18, 2013
SYBER Inc. is rolling out a Social Media Management package for businesses. The new offering includes account setup on the five most important social media sites for businesses (Facebook, Twitter, LinkedIn, Google+ and Foursquare), as well as day-to-day management and interaction. Accounts on additional social media networks can also be added to the package, depending on needs and the type of business.
Social media outlets such as Twitter, Facebook, LinkedIn, Google+ and Foursquare are particularly effective for medium and small businesses. Embracing social media best practices is a great way to organically build a business's online credibility. A well-structured Social Media marketing campaign can boost a business's online presence, strengthen its image, and cultivate a following of individuals who will see the business as a trusted authority.
Simply creating an account or page is not enough to keep that audience's attention. Consistently engaging followers will reinforce to the audience that this information is being created by a credible source, which will create more interactions with more Social Media users. The quality of your content can be even more important than the quantity, and should never be sacrificed.
"SYBER's latest social media offering takes the next logical step in the evolution of online social engagement and concentrates on returning meaningful value to business owners," said Jack Crane, CEO of SYBER Inc. Graduating from the idea of likes, site visits and +1's we are now able to track users from first engagement through the entire marketing and sales workflow. We review, interpret and modify these metrics on a daily basis to ensure a continual increase in meaningful conversions for each of our clients."
Social Media should be a central focus of any business's marketing efforts. Engaging with your target market through Social Media is a great way for a business to organically and cost-effectively reach large audiences. It is important to understand the principles behind successful Social Marketing campaigns and how to utilize best practices in order to maximize exposure, credibility and online reputation.
-- About SYBER --
SYBER, Inc. is an Information Technology (IT) company based in Annapolis, MD. They help clients reduce IT expenditures while increasing the security, reliability and optimization of their computer networks as well as improving employee productivity through Managed IT Services. They also provide Online Marketing services to help clients create and broaden their online presence, expand customer reach, increase potential sales opportunities, and achieve higher revenues. For more information, visit http://www.syber.com.