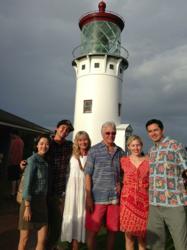 My family was very fortunate to be able to live next door to the lighthouse where we enjoyed the constant taking off and landings of the albatross, with Iwa birds flying overhead, and the crying of the shearwaters at night." John Ferry, Bali Hai Realty
Kauai, Hawaii (PRWEB) June 18, 2013
Pledging $5,000 a year for five years to the Kilauea Point Natural History Association, John Ferry, president of Coldwell Banker Bali Hai Realty was recently honored for supporting significant renovations at the Kilauea Lighthouse which were completed this year. Contributing $5,000 a year towards a total of $25,000 since 2008, the funds went to a number of projects to upgrade this popular visitor attraction on Kauai. The renovation projects primarily surrounded upgrading the lighthouse structure including complete restoration work on the tower, roof and anchor system along with stabilization and protection of the lighthouse's Fresnel lens. Ferry's family resided in a home next to the Kilauea Lighthouse. He recalls, "Growing up in an engineering family I was so impressed with the construction and the people who built this incredible lighthouse with building materials and builders from all over the world; for example, the giant clam shell lens that was shipped from Paris, France." The Lighthouse served as an important navigational aid starting in 1913 to assist ships crossing the Pacific to Asia. It is currently a popular visitor attraction on Kauai's north shore, drawing over half a million visitors a year.
Coupled with the Kilauea Lighthouse is the Kilauea Point National Wildlife Refuge that manages and protects six different species of birds. The refuge provides a unique opportunity on the main Hawaiian Islands, to view red-footed boobies, Laysan albatrosses, wedge-tailed shearwaters, and other seabirds in their natural habitat. Ferry recollects constant birdlife at Kilauea Point. "My family was very fortunate to be able to live next-door to the lighthouse where we enjoyed the constant taking off and landings of the albatross, with Iwa birds flying overhead, and the crying of the shearwaters at night."
In early May, the Kilauea Point Natural History Association celebrated its centennial anniversary along with completion of the lighthouse restoration projects, at which Ferry was honored for his contribution. Advocating community causes and supporting charitable organizations has been a long-time practice for Ferry's business, Coldwell Banker Bali Hai Realty. The philanthropic track record includes numerous monetary contributions, hands-on participation in projects and donated time to help out on boards and committees. Chief among community beneficiaries are schools, housing, health care, food banks, youth programs, environmental protection, canoe clubs and historical preservation.
Background: Coldwell Banker Bali Hai Realty was founded by its current President, John Ferry, in 1978. First known as Bali Hai Realty, the organization became associated with Coldwell Banker, an international real estate brand, in 2000. Bali Hai Realty provides both real estate sales and vacation rental management. The firm, located in Hanalei, has more than two dozen full time and part time employees. For more information, 808-826-7244, or go to http://www.balihai.com.