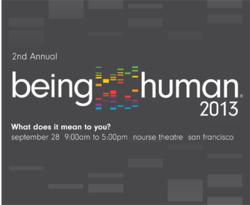 San Francisco, CA (PRWEB) June 18, 2013
For anyone who has every wondered why we have emotions and how they function, an enlightening segment entitled "Human Emotions" will be a part of the Being Human 2013 conference taking place on Saturday, September 28, 2013 in San Francisco's newly restored Nourse Theater.
The second annual Being Human event will foster a deeper understanding of what it means to be human. In addition to the segment on Human Emotions, the conference will also examine The Biology & Psychology of Ethical Behavior, Love & Sex, and The Future of Being Human from a variety of scientific, philosophical and evolutionary perspectives.
Exploring what our emotions are for, how they evolved and how we experience them, the scholars in the "Human Emotions" segment include some of the most respected and accomplished scientists and researchers in the field of human behavior. "These esteemed scientists have dedicated their lives to understanding our emotions, how they arise, and where they come from," said Jeff Klein, Executive Director of the Baumann Foundation. "By recognizing what lies underneath our seemingly complicated emotions, we can better understand how and why we feel the ways we do."
Neuroscientist Richard Davidson, Ph.D. is a Professor of Psychology and Psychiatry at the University of Wisconsin-Madison. He has spent nearly 40 years studying the human brain and emotion, and in 2006 was named one of the 100 Most Influential People in the World by Time Magazine. Dr. Davidson authored The Emotional Life of Your Brain with Sharon Begley, and has investigated how the neurological effects of meditation can functionally rewire the brain.
Paul Ekman Ph.D. is a pioneering psychologist in the study of emotions and facial expressions, and has been named by the American Psychological Association as one of the most influential psychologists of the 20th century. Through his 60 years of research, Dr. Ekman has established that the nonverbal communication of emotions is a universal phenomenon, and that human emotions are an evolved, biological response shared by cultures worldwide. He states, "Emotions can override…the more powerful fundamental motives that drive our lives: hunger, sex, and the will to survive."
Dr. Esther M. Sternberg is renowned for her discoveries surrounding the mind-body interaction in illness and healing. Recognized by the National Library of Medicine as one of the 300 women physicians who have changed the face of medicine, she is Research Director for the Arizona Center for Integrative Medicine at the University of Arizona in Tucson. Translating complex scientific subjects in a highly accessible manner, Dr. Sternberg lectures nationally and internationally on subjects including the mind-body connection, 'stress and illness', spirituality, love and health, and well-being.
Tickets to Being Human 2013 and more information on these and other featured speakers and presenters are available at BeingHuman.org.
SUGGESTED KEYWORDS: Richard Davidson, Paul Ekman, Esther Sternberg, Being Human, human emotions, neurobiology, neuroscience, Nourse Theater, Baumann Foundation, Peter Baumann, Ethics & Behavior, Love & Sex, The Future of Being Human
ABOUT BEING HUMAN & THE BAUMANN FOUNDATION
Being Human is an initiative of The Baumann Foundation that fosters an ongoing exploration into the nature of human experience from evolutionary, scientific and philosophical perspectives. By creating environments for learning, connection and conversation, including public and private events, publications and a website, Being Human invites all people to discover a deeper understanding of our human nature. For more information please visit BeingHuman.org and TheBaumannFoundation.org.