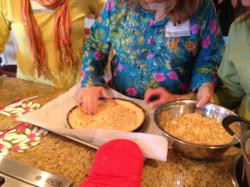 San Diego, CA (PRWEB) June 19, 2013
Lajollacooks4u, a San Diego-based cooking and dining experience, was selected by a large nationwide bank for its corporate teambuilding event for the top performers of its sales team.
The bank's leading sellers and managers from the institution's Southern Californian branches arrived at Lajollacooks4u for an afternoon of fun interactive hands-on cooking activities.
The bank's regional manager, who coordinated the entire event for the eight members of his team, said the event was an enriching, yet relaxing event that brought everyone together to celebrate their hard work and successes over the past year. "I have had the pleasure of cooking with Lajollacooks4u's founder, Chef Jodi, previously and thought this would make the perfect team-building event," the bank's regional manager said.
Sporting black and brown customized aprons, the group was broken into two teams with each responsible for several recipes needed to complete the meal. "The teams really looked and played the part," said Chef Jodi. "Everyone delved into the cooking while competing to create their best courses," Chef Jodi said.
The teams competed on a gourmet olive oil and salt tasting and then moved on to cooking their lunch. Team Black made amazing Wild Mushroom Pizza Rolls for the appetizers while Team Brown's Pepperoni Rolls were delicious and won on presentation. The rest of the lunch consisted of Fresh Berry Salad with Fennel, Roasted Purple Onion and Mixed Greens served in a Parmesan Cheese Basket – handmade by each participant. The main courses were Grilled Flank Steak with a Chimichurri Sauce; Salmon in a Basil Mustard Sauce and Spring Vegetable Pilaf paired with a 2010 Josh Cabernet. Chocolate Melting Cakes were made for dessert.
Lajollacooks4u was founded in 2008 and modeled after a European concept. Chef Jodi welcomes guests into her lovely Italian villa for a very special hands-on culinary adventure. Nestled atop Mt Soledad, La Jolla, CA, with stunning views of the Pacific Ocean, guests are shown how to prepare their culinary delights and then, under the direction of Chef Jodi, begin their own preparation. Lajollacooks4u specializes in Team-Building Activities, Farmer Market & Foodie Tours, special occasions and Culinary Weekends. Lajollacooks4u has enjoyed record growth since its inception and has been ranked a top attraction in La Jolla on the world's largest travel review site, Trip Advisor. For more information, contact Jodi Abel at jodi(at)lajollacooks4u(dot)com or phone - 858-752-4980.