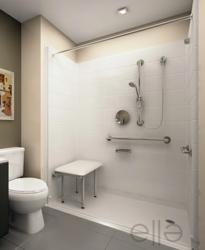 Summer's a perfect time to add a handicap shower stall or walk in bathtub!
New York, NY (PRWEB) June 18, 2013
Specialty bathtub supplier, Aging Safely Baths, announces a summer sales event on handicap shower systems and warm air hydrotherapy walk in bathtubs. For this summer celebration sale, the company will offer shopper's substantial discounts on safety grab bars, walk in tubs, wheelchair access transfer bathtubs and roll in showers.
Senior citizens and people with disabilities may potentially benefit from one of these unique bathing appliances. Unlike traditional bathtubs that typically have high ledges which must be stepped over, these quality walk in bathtubs have low step in entries that may potentially make it easier for a bather to enter the tub.
Aging Safely provides several of the leading brands, many of which are tested and carry pressure seal certifications on the door seal. All of their walk in bathtubs and transfer bathtubs come with a minimum standard of a lifetime door seal warranty. In addition, the handicap shower stalls come with a 30 year manufacturer warranty against any defects.
Hydrotherapy is a somewhat popular word these days. Homeowners are realizing how simple and relatively affordable it can be to install a hydrotherapy bathtub in their homes. Customers have the option to purchase a jetted walk in bathtub or a soaker only. Furthermore, shoppers can add temperature control devices which can help regulate the water temperature entering the bathtub. This accessory may be especially useful for bathers with disabilities or for people who have difficulty with their fine motor skills.
Homeowners that have limited space for improvement will find several of Aging Safely's products can be installed into residential applications without the requirement of a major remodel. However some of the tubs offered such as the wheelchair access transfer bathtubs do require more space due to their outward swinging doors. Additionally the 32" x 60" walk in tub does have an inward swinging door, but still will require more space than a traditional bathtub.
Those interested in more information on handicap showers or hydrotherapy walk in bathtubs are encouraged to contact a representative for a consultation. According to the company, nursing homes, assisted living facilities and other commercial organizations will also be able to receive substantial savings during this limited time sales event.
Contact Information:
Zachary Wennstedt
1-888-779-BATH(2284)
info(at)Agingsafelybaths(dot)com