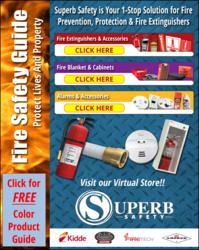 "In our on-going support of June as National Safety month, we recognize the need for our clients to have the latest and most-up-to-date Fire Safety information," said Jason Peters, Vice President of Sales at Superb Safety
Los Angeles, CA (PRWEB) June 18, 2013
SUPERB SAFETY, Inc., http://superbsafety.com, a leading provider of the latest and highest quality of Industrial & Personal safety products on the market today, announces the release of a customized Complimentary Fire Safety Guide featuring Leading Manufacturers products to support June as National Safety Month. This beautiful, 33-page color Fire Safety Guide is easily down-loaded and allows users to research products for Fire Prevention and Protection, as well as Fire Extinguishers and Accessories.
Click Here to receive the Complimentary Safety Guide:
According to Kidde, a fire can be extinguished successfully 94% of the time within two-minutes via NFPA approved portable fire extinguishers. Portable fire extinguishers are often the first line of defense for small fires and Superb Safety offers a wide array of life-safety devices from Kidde, Amerex, and Badger. Click here to see this and other Fire Prevention Accessories:
Fire Extinguishers & Accessories
"We are pleased to offer NFPA approved Fire Safety products to provide the highest quality of safety and protection," said Jason Peters, Vice President of Sales at Superb Safety. "In our on-going support of June as National Safety month, we recognize the need for our clients to have the latest and most-up-to-date Fire Safety information," said Peters. Therefore, to further recognize National Safety Council's (NSC) efforts to promote National Safety Month, Superb Safety will offer this Fire Safety Guide filled with key product specifications and valuable information at no charge. During the month of June, Superb Safety continues to bring attention to critical Fire Safety issues and encourages business of all-sizes to always protect lives and property with approved fire prevention products.
About Superb Safety:
Superb Safety's mission is simple - provide the best products and service to our customers at the lowest prices possible. Headquartered just outside Los Angeles, California and representing the safety and protection interests of companies and organizations across the United States, Superb Safety offers a full spectrum of safety industry products from chemicals to personal protection, all designed to protect today's workforce and the customers they service. For company information and to view the entire Superb Safety product line please visit http ://superbsafety.com