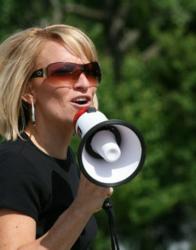 You have been on a mission all year to live vitue: friendship, joy, joyful obedience & sportsmanship. Today you will put the virtues in action as you participate in your field day games!
Lemont, Illinois (PRWEB) June 25, 2013
The students at Everest Academy enjoyed a beautiful day along Bell Road on the school's open land during their annual Field Day. Field Day 2013 marked the final days of the school year and gave the students an opportunity to show not only their physical coordination and athletic skills but also good sportsmanship and team spirit.
The day began under beautiful blue skies with an opening prayer and the singing of the national anthem. Student teams were organized with a cross section of all grades on each team. Each team wore a different color t-shirt and created a team cheer that showed spirit and unity. Teams were judged not only on how they performed in the races but also on their conduct, attitude and sportsmanship.
Students participated in a variety of competitive events that were fun and challenging for the different age levels including the mummy wrap race, the wooden egg and spoon relay, the beach ball game, the squeeze-the sponge race and the balloon line contest. After the field events, students enjoyed a festive environment filled with music and dance, summer picnic foods and treats, face painting, and interactive games. The 'dunk tank' was a huge hit, as was the tug of war between the faculty and the middle school students.
Encouraging words were given to the students by Field Day Coordinator and parent volunteer, Mrs. Susie Lambert, who addressed the students saying, "You have been on a mission all year to live virtue: friendship, joy, joyful obedience and sportsmanship. Today you will put the virtues in action as you participate in your field day games! If a teammate makes a mistake, offer encouragement, not criticism. If you make a mistake, don't pout or make excuses, learn from it and be ready to play. If you win, don't rub it in. If you lose don't make excuses. Play fair, cheer on others, work hard and have fun!"
During Field Days at Everest the students have a chance to practice the growth they have experienced this past year in character development, which an Everest education addresses for all students. Middle school students as leaders guided their younger team members while younger students reciprocated with much enthusiasm cheering on their older teammates. Teams excelled not only on speed and balance, but also on being kind, following the rules, working hard and working together. Winning metals were determined based on a combination of athletic performance and character strength.
Pope John Paul II, who was an active athlete all his life, believed that sport, in its pure form could provide an arena for evangelization because the attributes required to become a champion are very similar to the attributes needed to become strong Christian leaders. Everest Academy continually reaffirms t he academic, character & spiritual development of its students. Field Days at Everest Academy was more than just a day to race out in the sun. It was a day to truly celebrate the upstanding hard work and effort put in during the school year.
Everest Academy is an independent Roman Catholic school in Lemont educating children from preschool through eighth grade. The teachers and staff are dedicated to forming the whole child by providing the highest level of academics, by building strong character, and by preparing generous leaders ready to serve the community. If you would like to learn more about Everest Academy's unique approach to education, please contact Coleen Mast at 630-243-1995 or visit http://www.everestadvantage.org.