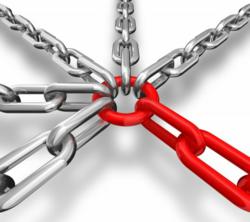 Any website that has a higher PR is regarded to be more trustworthy and an authority than those with lower PRs. For example, a link from a PR7 website is more valuable than one from a PR1 site.
New York, New Jersey, Wilmington DE, Philadelphia, Chicago (PRWEB) June 18, 2013
Link Building is the cornerstone of SEO and quality inbound organic links are guaranteed to increase web traffic, generate quality leads and improve search engine rankings. Although, one fact has become well known throughout the SEO Industry and from website owners who experienced this first hand, link building is no longer about quantity but quality! Ever since Google Penguin updates, websites with fewer than 100 relevant quality and trusted high scoring links out rank websites with several hundreds or even thousands of irrelevant spammy type links.
When it comes to link building, PR is probably the most important initials to know in the SEO world. PR stands for PageRank and is a link analysis algorithm, named after Larry Page (co-founder of Google) and is used by Google. The purpose of PageRank is to measure a page's relative importance within the component of a hyperlinked set of documents. The quality of a backlink is referred to as "link juice".
One thing that has definitely changed is the way to obtain backlinks and the following is the "Top 10 Ways To Build Quality and High PageRank (PR) Backlinks":
#1 Online Directories

There are thousands of online directory sites.
Online directories are easy backlinks.
Many online directories are free submissions or have very low yearly fees.
Some online directories have High PR.
Online directories improve companies exposure.
#2 Article Submission Backlinks
Many article websites are free to join and some have high authority domains.
Backlinks from article submissions are High PR.
Backlinks from well written articles can have relevant anchor text.
As well as great backlinks, they can also create high website traffic.
#3 Press Releases
Online article publishing companies have high authority.
Links from press releases can give very high PR.
Great content press releases give high quality relevant backlinks.
There are many online article publishing companies which can get a good ROI.
These publishing companies submit their article's to other publishing sites and in many cases, they will
send .the article to over 10,000 other publishing sites to see if they will pick-up the article.

Google chooses new Press Releases and Ranks them well.
Best way to brand a company product and gain Authorship very quickly.
If it's a new website, it will get indexed faster by search engines.
#4 Video Submissions
Video submissions on YouTube can get very high PR.
Video submissions with many views get high link juice backlinks.
Videos with many views get high company exposure and product branding.
Informational and educational videos gain trust and Authorship.
#5 Social Networking
Social Media Marketing is a must which promotes trust, Authorship, company name, product
branding and creates followers that want to read compelling content.

With the proper content writing, anchor text can be varied for different links and avoid all links
having the same anchor text.

On Twitter, follow as many people as possible within the relevant field and product brand.
Many will reciprocate and follower back.

At minimum sign-up for Google+, facebook, twitter, Linked-in and YouTube.
Don't try to conquer them all at once. Start off with the top 2 sites (say Facebook and
Twitter) plus Google+ (for obvious reasons). Facebook gets over 35% of the social media
market and twitter has almost 20%.
#6 Forum Posting
There are thousands of forums for Blogging and Posting.
Posting on relevant RSS feed threads can provide great backlinks.
Some Forum links can have a high PR.
The best types of forums to join are the ones that require a registration login and allow you to
enter you websites URL.
#7 News Commenting
News articles get published quickly and spread fast.
Great content articles can have high authority.
Quality content articles get quickly picked-up by online news websites and indexed quickly
by search engines.
#8 Blogging and Re-Posting
.

Blog comments and re-posting links are a good way to get high PR backlinks.
Commenting on blog posts can get relevant backlinks.
It is not taboo to re-blog or re-post a great article you would like to share with others.
#9 Check Your Competition's Backlinks
Find a list of 3 or 4 top SERP competitors with high PR backlinks by analyzing your
competitor's backlink report.

There a several good tools (e.g. SEOmoz) that will generate backlink reports that will show
their exact backlinks. Select 3 or 4 competitors and create the reports.

These are proven backlinks and if they work for the competition, they'll work for you!
By obtaining these competitors backlink reports, you'll find backlinks you didn't even know
about.
#10 Three Way Relevant Link Exchanging
3 Way relevant link building exchanges are easy to find.
Can increase online exposure.
Can provide high PR links.
Know the sites you are linking with and only use 3 way link exchanges. Avoid getting
involved with any type of link building networking.
As a website and business owner, it's very important to know all the backlinks to your website because all it takes is a few bad spammy backlinks to loose rankings or get penalized from the search engine websites.
For more information contact Peter Rossi at ProfitSearch - (302) 383-8030 or http://www.profitsearch.net