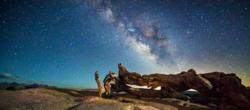 I intend to capture, and help others capture otherworldly night landscapes that make the viewer stop in their tracks and commit to getting out into nature and looking into the sky at night. - Jesse Summers
Yosemite, CA (PRWEB) June 20, 2013
YExplore, a leader in providing Yosemite photography workshops, has announced an all new "Night Skies Photography" program with rising landscape photographer Jesse Summers. Summers has gained international acclaim as a talented nightscape photographer with photos such as "Night Sailing" and "Stars over the Honeymoon Suite". YExplore owner and Founder, John DeGrazio is excited to partner with Summers by sharing this distinct offering with Yosemite visitors. "Jesse Summers has established himself as an innovative artist in the world of landscape photography," DeGrazio states. "And we are pleased to share his unique perspectives with those wishing to create their own striking Yosemite images under the night sky."
In this workshop, photographers will learn the most difficult and one of the most exciting facets of landscape photography: capturing images at night with the stars overhead. Additionally, they will have the opportunity to shoot remarkable sunrises and sunsets, learn about the basics of landscape photography composition, and discuss aspects of post-processing. They will likely also learn some basic astronomy to help prepare for their photography experience.
The first one-day Yosemite Night Skies photography class will begin August 2nd and will be followed by a two-day workshop spanning August 3rd and 4th that will allow for multiple opportunities to create images under the stars. Summers is proud of his recent recognition as an innovator in the ever changing landscape of Yosemite photographers and is eager to share the techincal aspects of his art with amateur and professional photographers alike in Yosemite National Park. He fondly promises, "Everyone will leave this workshop with a newly-gained ability to capture the starry skies at night and a sense of awe and wonder of the galaxy we call home."
About YExplore
YExplore Yosemite Adventures is the only Yosemite Tour Company that offers custom guided Yosemite experiences (Adventure Hikes, Half Dome Hikes, Multi Day Backpack Trips, Nature Walks, Birding Walks, Wildflower Walks, Snowshoe Hikes and Photography Workshops) 12 months a year. Their mission is to encourage park visitors to connect with the natural world of Yosemite through outdoor experiences that deliver unique photographic opportunities and lasting memories. YExplore is a socially responsible company providing educational services that follow Leave No Trace principles to minimize their impact in nature to ensure that the ecology of the park will not be compromised.