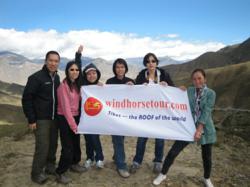 We conducted a thorough client feedback project to gather specific suggestions on how to improve the user experience and help our clients with their trips in Tibet. -- Harley Greenberg
(PRWEB) June 20, 2013
WindhorseTour, a top local travel agency with over 10 years experience in organizing tours throughout Tibet, has updated their Tibet FAQ page with newly designed functions, expanded questions and detailed answers with latest information in 2013.
The updated FAQ page aims to help users find the answers for the common and some uncommon questions about travel in Tibet more convenient and quickly. The questions include how to apply for a Tibet Permit, when is the best time to visit Tibet and is traveling to Tibet safe.
A main redesigned feature includes a new function which allows users to see the detailed answer directly below the question they click on.
The questions on the updated FAQ page have been expanded with more detailed issues that clients care about. All of them has been classified into (6) different categories, Planing a Trip in Tibet, Tibet Travel Documents, Tibet Transportation, Tibet Train Travel, Tibet Health and Safety as well as Tibet Food and Accommodation. All the questions related to these (6) themes are all listed below for users to quickly search for.
Additionally, WindhorseTour has completely updated the answers for all the questions on the FAQ page, ensuring users can get the latest information about Tibet. For instance, below the question, "train tickets can be purchased how far in advance," you can find the latest information about the reservation date, which has been updated to 20 days in advance.
Harley Greenberg, one of the managers at WindhorseTour said, "We conducted a thorough client feedback project to gather specific suggestions on how to improve the user experience and help our clients with their trips in Tibet."
WindhorseTour specializes in creating tailor made experiences based on every client's unique needs and operating groups to all provinces. Please visit WindhorseTour.com for more information or contact them by phone calls or E-mail.
Email address: news(at)windhorsetour(dot)com
TEL: (+86)-28-85593923, (+86)-28-86254701
Fax: (+86)-28-86254710