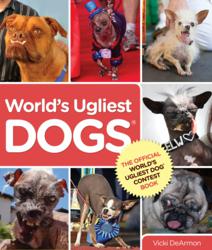 Canine proof that ugly is the new beautiful
Petaluma, CA (PRWEB) June 19, 2013
How can dog lovers enjoy the wacky fun of the World's Ugliest Dog® Contest when they can't attend the actual event? World's Ugliest Dogs: The Official World's Ugliest Dog Contest Book is the answer, providing a 160-page year-round chuckle for fans. The book offers contest producer Vicki DeArmon's whimsical take on the contest and hilarious photos from photographers Kira Stackhouse, Grace Chon, Scott Hess, and Brett Klenk. The book has been released just in time for the 25th anniversary of the World's Ugliest Dog ® Contest June 21at the Sonoma-Marin Fair in Petaluma, California.
The book includes short profiles of the "so-ugly-they're-cute" dogs and their owners—capturing the wacky and wonderful spirit of the original contest. DeArmon has included "puny tails" about the well-loved dogs who "soak up the glory of the contest while their owners sniff out the competition, make double-entendre comments, and see who can lift one's leg higher around the hydrant of publicity." Nothing is left out, from the scandals where contestants famously hacked the World's Ugliest Dog Online Voting Gallery to mess with votes to the good works performed by contestants and the contest alike in promoting the adoption of rescue dogs.
The contest is now an international phenomenon with the announcement of the winner careening around the globe and appearing in thousands of newspapers and broadcasts. World's Ugliest Dog photo galleries have run on Yahoo, the Huffington Post, Animal Nation, and in People Magazine. The contest also has attracted international television and film interest. Animal Planet filmed for the show for three years, and award-winning documentaries such as Worst in Show followed contestants through the process.
Following this year's contest, the author is conducting "PAW-tographings" with "beauty challenged" canines at bookstores. The first will take place at Copperfield's Books at its Montgomery Village store in Santa Rosa, California on June 25 at 7 pm with contestant and local pug, Grovie. Fans of the contest can discover the "PAW-tographing" schedule as well celebrate the beauty of ugly dogs at https://www.facebook.com/WorldsUgliestDogs.