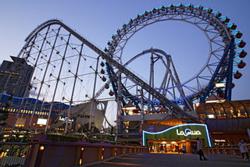 Protection Tags promotes child safety whether traveling near or far.
Carson City, NV (PRWEB) June 18, 2013
Most theme parks are open throughout the year but now that school is out its only natural to take more trips to amusement parks with your children. These are some tips from Protection Tags that will help you ensure your child's safety and make it a great day for the whole family.
Before you arrive at the park:

Purchasing tickets online can help you save money and time at the park entrance. Many parks offer special parking discounts for those paying online. Some employers also offer employee discounts packages. Auto Club travel agents may also provide additional discounts. The less cash that you have to carry around while at the park, the better. Be sure to also check the park's refund policy in case of bad weather.
Check online the maximum height and weight restrictions for each child so you can steer clear of rides that aren't appropriate. This prevents having a disappointed child.
Wardrobe Decisions - Everyone should wear bright colors so you can easily spot each other in a crowd.
ID each item so you can get it returned if lost. A safe way to do this without giving total strangers information that can allow them to trace you back to your home, is a service like Protection Tags.
When you arrive at the park:

Take photos of each member of your party with your cell phone in what they are wearing before leaving home or before leaving the parking area. If one of your children gets lost, it's easier for park employees to recognize a person showing what they are wearing than from a close-up face shot that may be several months old.
Make a point of remembering where you are parked, what section, etc. Taking a photo of this info can help you find your vehicle at the end of a long day. Most parks have trams, but you want to make sure you get off at the right section to prevent a long walk or long wait for another tram.
Make sure you have rendezvous spot and time that every person in your party is aware of. A rendezvous spot close to the entrance is usually easiest for all to locate.
Make sure that everyone has a fully charged cell phone so they can be used to tell time and provide communication when needed.
Additional Tips

Planning meal times away from traditional meal times can save a lot of time waiting to be seated or served and yield more time for fun.
Start at the back of the park and work your way toward the entrance.
Buying souvenirs later in the day saves you having to carry them much of the day.
ProtectionTags.com continues to provide a variety of services to ensure your family safety no matter how far from home your family travels. Their ID service helps get lost items returned while protecting each family member from strangers, and helps teach child safety during the busy travel season.
About the company
The founder of Luggage Protection Tags, Boots Gibson, is an avid traveler and had searched for a company to safely identify her luggage and important personal items, after seeing a Dateline TV segment about burglars getting addresses off luggage tags at departure terminals. She had a list of 6 criteria she wanted from a service, but could only find companies that met 1 or 2 of those criteria, so she started Luggage Protection Tags, Inc. to offer others the same level of service she wanted.