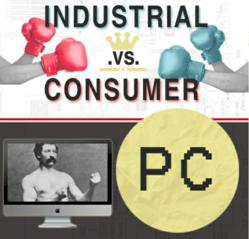 (PRWEB UK) 18 June 2013
Consumer PCs are understandably a popular choice for those looking for a low cost, easily available computing solution for the home. However, many people needing a PC for specialist purposes such as digital signage fail to consider industrial options. For situations where low power output, and robust construction are top priorities, industrial PCs should not be overlooked. Examples of industries where these excel include security, automation and broadcasting.
As mentioned above, a huge reason for the popularity of consumer PCs used in business is their low initial cost. Industrial computers however, are cheaper in the long run thanks to efficient power consumption and low maintenance costs. Consumer PCs are mass produced and work well in controlled environments such as the home or office, but are no match for industrial PCs when it comes to withstanding the rigours of commercial or industrial situations.
"We think it's important to shed some light on the differences between the two PC types," comments Rob Anders, CEO of Tiny Green PC. "Consumer computers are great for home usage, but those utilising these units for commercial purposes are really missing out. Businesses looking for powerful, environmentally friendly and cost effective solutions should look no further than industrial PCs."
Tiny Green PC's full infographic can be found here, and can be uploaded to websites using the embed code on the same page.