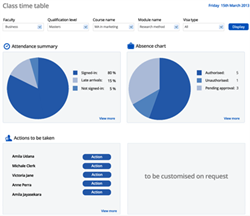 London, UK (PRWEB UK) 20 June 2013
All Tier 4 licenced sponsors of overseas students have to be able to provide reliable evidence that their students are actively engaged in the study programme. The regulatory authorities have three key questions of any sponsor:

Is the individual student continuing to study?
Does the institution have a robust Attendance Monitoring Policy and are the necessary systems and processes in place?
Is the institution actively implementing and complying with its Attendance Monitoring Policy?
In considering the best way to fulfil these obligations, colleges and universities have a number of factors to consider, ranging from the organisation's culture and ethos, technical knowledge and capabilities, implementation and operating costs, staffing resources, and what the vision of a good system is.
Many organisations currently gather lots of data relating to student engagement and attendance, but this is often on an informal basis, perhaps for a department or faculties own purposes.
Usually, whatever information gathering process that is in place was never intended to provide the information needed for compliance purposes and therefore it is highly unlikely to be the foundation needed to satisfy the regulators.
These informal systems also rely on lots of 'human input', like the manual taking of a register, use of hard copy or spreadsheet going from an event to administrators for the data to be processed, then collated and forwarded for review.
The information treadmill never stops. Events which are good measures of engagement, like classes, tutorials, lectures, assignment and project completions, student visits to the library, happen all day every day.
Just the information gathering and processing alone can often prove to be too difficult to carry out to the standards needed to provide robust and reliable evidence. There is no time left for the responsible staff to analyse the data, to recognise where a student may be showing signs of difficulty, or non-engagement.
For example, increased absence and lateness, late submissions, non-attendance or reduced library attendance are all strong indicators of potential issues. If these can be recognised immediately, then there is an opportunity for staff to intervene and engage with the student so that they can identify together what actions are needed to get back on track.
The great majority of manual systems simply cannot provide the necessary information in time to enable the staff to make a difference. They spend all of their time data gathering and processing and the analysis and subsequent actions simply do not happen.
What other options can be considered for gathering data for many thousands of transactions every day, processing that data so that it can be accessed in easy to read form, that highlights which students are indicating signs of reduced or reducing engagement, so that as well as being compliant, the organisation can improve student retention and attainment?
The latest proven technologies make all this and more possible and, importantly, make it possible on an extremely affordable and cost effective basis.
There is a misconception that all technological solutions are extremely costly to implement, they need new hardware, cabling and infrastructure, that they take up additional staff time and resources and they reduce the organisations flexibility because 'the computer says no'. This is based on past experience, where many of those characteristics applied to IT projects.
There are now technology solutions available that are the complete opposite of the 'old way'.
Systems based on the latest proven technologies that enable the student attendance and engagement data to be gathered without the need for academic or administrative staff involvement.
Systems that operate and report in 'real time', so that if a student is absent from a timetabled event, responsible staff are notified immediately, without the need to process any data whatsoever.
Systems that facilitate immediate communication to a highlighted student via SMS, email, phone and letter, with that communication recorded and tracked for audit purposes.
Systems that ensure compliance with regulatory requirements on a cost effective and efficient basis, paying for themselves through the savings in staff time.
Systems that can be linked and integrated with current systems such as Student Information Management and Timetabling to ensure a holistic solution, rather than something that stands in isolation.
Systems that can be configured to suit the way you work, rather than imposing unwanted administrative requirements.
Systems that are always up to date and continuously improved, taking advantage of the latest proven technological developments.
The BQu Student Attendance Management System (SAMS) has been built to answer most of the problems faced by Universities and Colleges in relation to Tier 4 licences and student engagement monitoring. Contact BQuSAMS for further information or to arrange a demonstration.