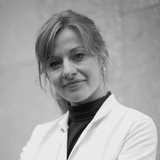 "I believe that treating the person from within is the best starting point for aesthetic medicine."
London (PRWEB UK) 19 June 2013
After months of planning, investment and refurbishment, Aesthetic Physician Dr Barbara Kubicka MD, CIME/ICAM, MBCAM is delighted to declare her new clinicbe location in Knightsbridge officially "open".
After receiving qualifications in aesthetic medicine and working for prestigious clinics, Dr Kubicka established her own private skin treatments practise as well as creating the unique clinicbe® brand.
Now clinicbe® has moved into exclusive private premises in the heart of Knightsbridge, where she welcomes patients who live and work in Chelsea, Mayfair, Belgravia and West London area and even visit from overseas thanks to her reputation for visible anti-ageing results without surgery.
The clinic itself is based in the heart of Knightsbridge, close to Cadogan Square, offering high levels of privacy and discretion to appeal to exclusive clientele in an easily accessible location. The premises have been extensively upgraded and refurbished to present a beautiful environment to put patients at ease. Dr Kubicka is keen for patients to feel pampered and relaxed at every visit, so the calm and tranquil settings, as well as quality refreshments, are seen as an important part of the visitors' experience.
The investment includes the latest skincare technology, such as PRP Platelet Rich Plasma therapy, PDT Photo Dynamic Therapy and Pure Light therapy for acne; extending the range of skin conditions that can be treated.
The new clinic® has been quick to establish its unique credentials as an integrated skin and healthcare service. Dr Kubicka explains her philosophy:
"I believe that treating the person from within is the best starting point for aesthetic medicine."
"Professional aesthetic treatments such as anti-ageing injections are very powerful and effective. However, the most natural-looking results are when they are used to refine and perfect, to enhance the results of good care rather than try to compensate for or disguise problems caused by neglect."
"Cosmetic treatments can be even more effective when a good foundation for healthy skin is built from within, so we work with clients to improve their skin from inside and out."
Dr Kubicka is renowned for her innovative, holistic approach to aesthetic medicine and achieves natural-looking and highly effective anti-ageing cosmetic treatment results by considering the patient on every level, ensuring optimum nutrition and providing personalised lifestyle advice as well as simply treating the external issues such as lines and wrinkles.
In launching the new clinic, Dr Kubicka is also extending the services available to her patients through partnerships with carefully chosen professionals.
The latest association to be announced is the introduction of Dr Theodora Mantzourani, who with over 20 years' experience now specialises in hormonal issues and nutrition and practises as a private holistic doctor with special interest in Functional Endocrinology and Bioidentical Hormone Replacement. Dr Mantzourani will be working closely with Dr Kubicka as part of the clinicbe® integrated skin and healthcare team.
Dr Kubicka says:
"We are very excited to be working with Dr Mantzourani. This partnership is the perfect example of integrated skin and healthcare."
"We look forward to extending our partnerships and announcing new plans for clinicbe® soon."
About Dr Kubicka, clinicbe®
Dr Barbara Kubicka MD, CIME/ICAM, MBCAM is a fully qualified doctor, registered with the GMC and with additional qualifications in aesthetic treatments.
Clinicbe®'s range of cosmetic and medical skincare treatments includes popular anti-wrinkle injections and fillers as well as mesotherapy and dermaroller. Dr Kubicka is also known for innovative treatments such as PRP (plasma rich therapy), PDT (photo dynamic therapy) and exclusive treatments include "Eyedealise", "Neck and Jawline Programme" and the "Triple Synergy Hair System".
The new clinic based at address: clinicbe®, Knightsbridge, London SW1X 0EH
For further information or to arrange a confidential consultation, please call 0207 125 0521, email info(at)clinicbe(dot)com or see the website for further information and contact details http://www.clinicbe.com.