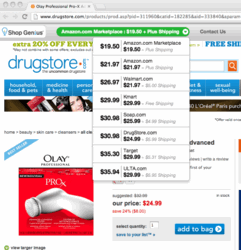 87% of online shoppers search multiple websites trying to find the best deal. ShopGenius eliminates this need.
Ventura, CA (PRWEB) June 19, 2013
NetPlenish Inc. announces today the release of ShopGenius, the new tool for people who hate to pay more than they should when shopping online.
Our research shows 25% of shoppers that put items in their carts don't click the buy button stating "it's too expensive" as their reason.
Interestingly, 87% of those same shoppers immediately go look for a cheaper price somewhere else online. Now, with a new free tool called ShopGenius, searching for a better deal is a thing of the past.
ShopGenius is a free tool shoppers can download for their Chrome, Safari or Firefox browsers. Once downloaded, price comparison on top sites such as Amazon, Walmart, Target, Staples, BestBuy becomes automatic.
Here is how it works: If someone is shopping for a new camera at Amazon.com, without them having to leave the page they are on, ShopGenius will automatically appear in the very top corner of their browser window either confirming Amazon is the lowest price, or showing them another online merchant with a better deal. If they like the better deal, they simply click that store and a new window will open up taking them directly to that product and merchant. It is just that easy to use.
ShopGenius is a free tool that contains no spyware, malware or ads. It stays hidden from view and never appears unless it can save the shopper money. It is really quite genius.
ShopGenius can be download at http://www.shopgeniusapp.com.
ShopGenius was created by NetPlenish Inc, a leader in online price comparison tools which has been featured in Fox Business, Wall St. Journal, AOL, TechCrunch and NY1. NetPlenish Inc. is housed inside the city of Ventura California's V2TC tech incubator.