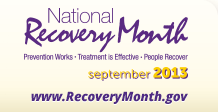 Together in partnership with the dedicated organizations who comprise the Recovery Month Planning Partners recovery success stories have become commonplace, partly because of Ms. Stein's exceptional commitment...
Sis Wenger, NACoA
Washington, DC (PRWEB) June 18, 2013
The sixth annual Ramstad/Kennedy Award for outstanding leadership recognizes the extraordinary impact of Flo Stein, North Carolina's Department of Health and Human Services Chief of Community Policy Management Section, Division of MH/DD/SAS on recovery across her state and nationally. The award was established in honor of Congressmen Jim Ramstad and Patrick Kennedy. The two congressmen have become vocal advocates of recovery treatment in all forms, and championed localized efforts to support prevention, treatment and recovery.
Today, Flo Stein, a 2013 single state director is recognized for her passionate leadership in recovery-oriented policies with the Ramstad/Kennedy Award in the national conference of the National Association of State Alcohol/Drug Abuse Directors in Bethesda Maryland. "Plain and simple, Ms. Stein has helped create opportunities of recovery for countless citizens and families. Her impact will have a rippling effect across society due to her assurance to embrace recovery month while tarnishing the stigma and working to end discrimination against mental health issues. We are proud to have Flo Stein of North Carolina receive the 2013 Ramstad Kennedy Award," said Sis Wenger, National Association of Children of Alcoholics (NACoA), a Recovery Month partner.
"Together in partnership with the dedicated organizations who comprise the Recovery Month Planning Partners, recovery success stories have become commonplace, partly because of Ms. Stein's exceptional commitment to recovering of both addicted individuals but also their family members. The Substance Abuse and Mental Health Services Administration (SAMHSA) recognizes that long-term recovery is not only possible, but is the goal of addiction and mental illness treatment and support programs. Ms. Stein has helped spread this positive message and the message that prevention can be effective to helping to break the cycle of addiction in families," Wenger continued.
"The recipient of the Ramstad/Kennedy award embodies the innovation of a leader dedicated to support prevention, treatment and recovery in their community. On behalf of the 100 collaborating organizations in the Recovery Month Planning Partners, we congratulate Flo Stein for being the winner of the 2013 Ramstad/Kennedy Award," said Recovery Month partner Marie Gallo Dyak, Entertainment Industries Council, Inc.
Both retired Minnesota 3rd district representative Patrick Kennedy and retired Rhode Island 1st district representative Patrick J. Kennedy also championed a mental health parity law in 2008 requiring easily assessable health insurance coverage for mental illness and addiction treatment. Together the Congressmen have sponsored Recovery Month and other programs to further therapy, treatment and recovery services for these illnesses across the country. The award in their names honors a recipient who has shown upmost commitment in expanding the prospects for recovery of addicted persons and their families and for persons with mental illnesses.