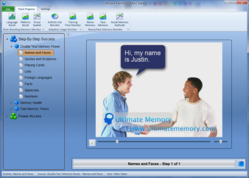 ...the research team looked further into the relationship between the decline in brain function and the increase in obesity, by focusing on what is called the FTO gene.
New York City, NY (PRWEB) June 24, 2013
There might be more reason for you to step into your running shoes than just looking good: losing weight might also improve your memory. As the developers behind eReflect's memory improvement software Ultimate Memory reveal, a group of researchers from the University of Texas Health Science Center at Houston have found out that variants of the gene that is causing fat mass and obesity (FTO) are associated with memory decline in middle-aged white Americans.
The team, led by Jan Bressler, Ph.D., looked at some of the study participants in the ongoing Atherosclerosis Risk in Communities (ARIC) research; the study participants were between 45 and 64 years years old. Building on the results of this study, which has already shown that an increased risk of brain atrophy and an associated decrease in cognitive function exists in this group of people (the participants in the ARIC study), the research team looked further into the relationship between the decline in brain function and the increase in obesity, by focusing on what is called the FTO gene. FTO is the marker for an increased fat mass and tendency towards obesity.
Their report, published online through Neurology, stated: "In a sample of 8,364 white and 2,083 African American men and women with no clinical history of stroke, significantly greater mean change in performance on the Delayed Word Recall Test was associated with 2 of 4 FTO single nucleotide polymorphisms examined (rs9939609, rs805136, rs17817449, and rs1421085) in whites but not in African Americans (p ≤ 0.002). The association of the FTO polymorphisms with cognitive change was independent of potential confounding clinical and demographic variables including age, gender, education, diabetes, hypertension, and body mass index."
Although this specific investigation did not include direct inquiry into how FTO can be suppressed to arrest memory decline, an earlier study led by John Gunstad, assistant professor of psychology at Kent State University, found that losing weight may increase concentration and overall cognitive ability.
Gunstad and his team tested 150 overweight people on their memory and attention span. Some of the participants went through gastric bypass surgery to lose weight while others did not. Twelve weeks after the surgery, those who underwent operation got an average or above average score on the tests, while those who did not lose weight showed no improvements.
Losing weight is as important as training to improve your memory. A good memory helps improve career prospects and makes even everyday tasks easier. The goal of training memory is for a person to be able to function more effectively and efficiently and to the best of their ability, and weight loss is proving to be a part of that effort.
For more information on how Ultimate Memory software can help, please visit http://www.ultimatememory.com.
About Ultimate Memory™
Ultimate Memory™ is the market's leading memory improvement software package.
Scientifically proven to improve memory with as little as ten minute's user per day, Ultimate Memory™ is also backed by an iron-clad guarantee.
Containing many innovative strategies, tutorials, tips and exercises, users benefit from a myriad of varied ways to learn.