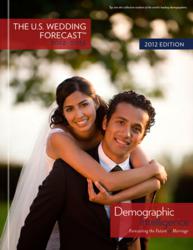 Not only is there a shift taking place in the number of marriages, but also WHO is getting married.
Charlottesville, VA (PRWEB) June 18, 2013
"Compared to most developed countries, the United States has enjoyed unusually high rates of marriage for much of the last century," said Sam Sturgeon, Ph.D., president of Demographic Intelligence (DI), publisher of the U.S. Wedding Forecast. "But we think that the era of exceptional American marriage rates is drawing to a close. The U.S. is now moving to a European-style marriage pattern, with further declines in the U.S marriage rate expected."
Drawing on an extensive analysis of demographic, economic, and cultural trends, the new report from DI provides detailed projections of U.S. marriage trends in 2013, 2014, and 2015 by income, education, race, and ethnicity. Three projections from The U.S. Wedding ForecastTM are particularly noteworthy:

The percentage of weddings to college-educated women rose from 30.5 percent in 2008 to 34.1 percent in 2013. "These trends suggest that marriage is increasingly the preserve of better educated Americans," said Sturgeon.
Marriage fell most among less educated and young women in the wake of the Great Recession. The report projects that marriage fell, from 2008 to 2013, almost 12 percent among women with a high school degree or less. Marriage also fell almost 8 percent among women aged 24 and younger over this period. "Clearly, younger and less-educated women have been hit hardest by the recession and it shows in their marriage patterns," said Sturgeon.
Trends have also shifted for Hispanic brides. In 2008, 15.5 percent of weddings were to Hispanic women. In 2013, DI projects that 17.1 percent of weddings will be to Hispanic women.
The forecast also estimates that about 175,000 weddings have been postponed or foregone since the recession began.
Demographic Intelligence birth and wedding forecasts are typically more than 98 percent accurate in predicting U.S. demographic trends. The forecast model proved 99.71 percent accurate in predicting total 2011 marriages.
"This report fills a critical gap for executives and analysts working in the wedding industry," noted Dr. Sturgeon. "DI's projections are particularly important because the economic and cultural drivers of marriage are changing so much today. Thus, Demographic Intelligence gives companies a clear sense of the demographic road ahead."
About Demographic Intelligence
Demographic Intelligence (DI) is the premier provider of U.S. wedding trends and birth forecasts for businesses with an interest in marriage and birth trends in the United States. DI provides reports and consulting services to companies in the following sectors: jewelry, clothing, juvenile products, healthcare, media, financial services, consumer food, and household products. Past clients include David's Bridal, Disney, Procter & Gamble, and Bain Capital. Demographic Intelligence is advised in its work by three leading demographers: Princeton economist Alicia Adsera, University of Pennsylvania demographer Hans-Peter Kohler, and University of North Carolina demographer Philip Morgan.
CONTACT:
Demographic Intelligence
888-543-5277
Steve(at)USbirthrate(dot)com
http://www.usweddingforecast.com
http://www.demographicintel.com