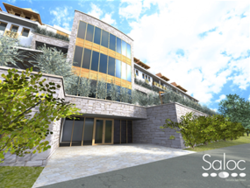 Enquiries regarding the Heves region of Hungary have increased over 50% in Q1 2013 from Q4 2012.
Poole, Dorset (PRWEB UK) 19 June 2013
Select Resorts believe that Hungary is a fantastic country in which to invest in property – as long as it's in the right type of investment. Buyers are still cautious of purchasing in the depressed property market, however according to recent research undertaken by TheMoveChannel, there is still significant demand for certain projects in the culture-filled country.
Budapest remains the most popular place in which international buyers are looking to invest their funds, however the capital now has stiff competition from another in-demand area - the Heves region of Hungary.
Famous for its hot springs and popular Hungarian spa resorts the area is currently generating 1 in 4 Hungarian enquiries on the overseas investment portal. Not only is the region generating a significant number of searches, but enquiries have also increased over 50% in Q1 2013 from Q4 2012.
Specific searches for "Heves" on the portal generate only account for 2.10% of Hungarian searches – which suggests buyers are attracted to the region for specific developments, rather than a general interest in the area.
One popular Hungary spa resort is that of Saloc. With a range of apartments and suites available for sale, investors can spend from just £44,975 with no further financial responsibility. With guaranteed, fixed returns for a 10-year period, it's understandable that this secure investment model will appeal to savvy property investors.
Select Resorts have also seen a massive increase in enquiries for the resort, with new enquiries increasing by 85% in Q1 2013, compared to Q4 2012. Company Director, Pauline Bonnani comments:
"We've sold a number of suites and apartments on the Saloc Resort development to investors from all over the globe. The stable tourism figures and increasing medical tourism in the area are all driving demand for investments such as Saloc. It's an affordable proposition too – and looks like it'll be a fantastic resort once completed."
The Saloc Resort and Spa development breaks ground on 19th June, with a large percentage of the project already sold. There is only 1 corner suite and 2 double suites with balconies still available for sale within the resort.
To find out more about investing in Spa Resorts in Hungary, please contact Select Resorts by clicking here.
Notes to Editors:
About Select Resorts
Anyone looking to invest funds into property or land abroad should contact Select Resorts. A well-established company with over 30 years' experience in the industry, the dedicated and passionate team offer the service one would expect from a company giving expert advice on a vast range of international property areas to assist in reaching more profound decisions on purchasing overseas property and land.
The only UK based associate of Savills International and a member of the AIPP (Association of International Property Professionals), Select Resorts offer in-depth knowledge and experience to meet the needs of overseas real estate investors. Buyers can invest safe in the knowledge full and thorough due diligence has been undertaken on all projects offered for sale.