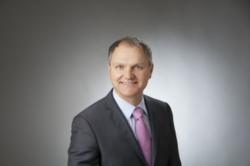 Loftware's continued expansion within Europe is another affirmation of our commitment to our global customers and those based in the region.
Portsmouth, NH (PRWEB) June 18, 2013
Loftware, Inc., the global leader in Enterprise Labeling Solutions, has appointed Guenther Martin as Sales Director, Europe, based in Germany. His addition further builds on Loftware's unprecedented growth globally and further enhances continued customer and partner support in the region.
"Guenther joins Loftware with a wealth of experience and a track record of success in enterprise software sales within Europe," said Robert Rae, Jr. Loftware's Vice President of Sales and Business Development. "His knowledge, drive and personable approach will prove Guenther a perfect fit to foster customer and partner relationships as Loftware continues its strong growth in the region."
For over 15 years, Mr. Martin has driven sales within top technology companies worldwide, targeting the European market and building customer relationships. The role of Sales Director, Europe will build upon Mr. Martin's established regional strength and proven experience to provide outstanding support for Loftware's European customers and partners.
"Loftware's leadership position in enterprise labeling and well established presence in the European market makes this role an exciting one," stated Guenther Martin. "I look forward to growing the Loftware customer base and working with partners throughout Europe."
"Loftware's continued expansion within Europe is another affirmation of our commitment to our global customers and those based in the region," states Robert O'Connor, Jr. President and CEO. "As leaders in enterprise labeling, Loftware continues to invest at an unparalleled rate in product development, customer service, professional services and sales to address the needs of our customers throughout the world. We are delighted that such an accomplished software executive like Guenther Martin has joined our team in Europe."
Press Contact:
USA
Natalie Spencer nspencer(at)loftware(dot)com
+1-603-766-3630 x329
Europe
Guenther Martin gmartin(at)loftware(dot)com
Germany
About Loftware
Loftware, Inc. is the global market leader in Enterprise Labeling Solutions with more than 5,000 customers in over 100 countries. Offering the industry's most comprehensive labeling solution, Loftware's enterprise software integrates SAP®, Oracle® and other enterprise applications to produce mission-critical barcode labels, documents, and RFID Smart tags across the supply chain. Loftware's design, native print, and built-in business rules functionality drives topline revenue, increases customer satisfaction, and maximizes supply chain efficiency for customers. With over 25 years of industry leadership, Loftware's enterprise labeling solutions and best practices enable leading companies to meet their customer-specific and regulatory requirements with unprecedented speed and agility.