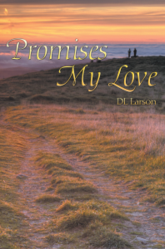 A beautiful story of a man's fragility, and the strength of woman's love.
EARLVILLE, Ill.
(PRWEB) June 19, 2013 -- Author DL Larson's new release from Dog Ear Publishing is a tale of an adult man dealing with the effects of abuse at the hands of his uncle. Francis Frailey is a tightly wound banker, cool toward his children, and stiff with his wife, Christine. It is his hope that if he holds himself apart from his beloved family, they will avoid the taint of abuse that he feels he still carries with him. Christine believes her love can break through the barriers Francis has erected around his heart, and just as soon as she starts to thaw him, Francis receives word from his family, slamming shut the gates more firmly than ever before.
Francis hears that his uncle lays dying, and he decides he must end the man's life, once and for all. It is, in his mind, the only way to avenge himself, cleansing the past. Christine's intuition leads her to send her brother, Joe, to stop Francis from committing an act from which he might never recover. Will Joe be able to prevent Francis from murdering his uncle? Can Francis find forgiveness within himself, and let his family bask in his love?
"Promises My Love" is a beautiful story of a man's fragility and the strength of woman's love. Christine and Francis are a flawed but deeply loving couple, and readers will find themselves rooting for the pair to overcome the obstacles that stand in their path. Author DL Larson writes with tremendous sympathy and affection for her characters in this, her third novel. Larson is a children's librarian and the recipient of writing awards, such as the 2008 Reader's Choice award. She lives in northern Illinois with her family.
For additional information, please visit http://www.dllarson.com.
Promises My Love
DL Larson
Dog Ear Publishing
ISBN: 978-14575-1941-3 204 pages $13.95 US
Available at Ingram, Amazon.com, Barnes & Noble and fine bookstores everywhere.
About Dog Ear Publishing, LLC
Dog Ear Publishing offers completely customized self-publishing services for independent authors. We provide cost-effective, fast, and highly profitable services to publish and distribute independently published books. Our book publishing and distribution services reach worldwide. Dog Ear authors retain all rights and complete creative control throughout the entire self-publishing process. Self-publishing services are available globally at http://www.dogearpublishing.net and from our offices in Indianapolis.
Dog Ear Publishing – self-publishing that actually makes sense!