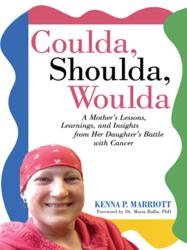 Cancer is not just one person's disease, it impacts everyone who loves and cares about them.
Tampa Bay, FL (PRWEB) June 26, 2013
Kenna Marriott and her daughter had planned to coauthor a book about the struggles of living with cancer.
Unfortunately, the two never got the chance to make this dream a reality. On May 24, 2008, Marriott's daughter, Jeannine, succumb to her illness after a courageous seven and a half year battle.
Driven by grief, recovery and a desire to help others while paying tribute her daughter, Marriott penned Coulda, Shoulda, Woulda; a story of the lessons learned and insights gained from her daughter's battle with cancer. It is Marriott's hope that the book will help other families struggling with life threatening illness. She is confident that her memoir about Jeannine's illness will assist patients, as well as their family and friends through the minefield of situations and emotions that come with serious illnesses.
"Jeannine's story is poignant, griping and full of raw emotions," says Marriott. "This book brings up challenges and situations that are often not discussed. Obstacles delved into include the stress of continuous treatments and hospitalizations on the patients and family, the impact cancer has on self-esteem, relationships with children and even the sex life of a couple impacted by cancer."
Jeannine Mongelli was forty years old when she was diagnosed with breast cancer. After a two year battle and a short remission, the cancer metastasized in her backbone. It was aggressive and incurable. The book weaves together mother's and daughter's perspectives, feelings and points of view to show the impact of cancer on the patient and the family. It reveals the progression of Jeannine's illness, the milestones that held the greatest lessons. It even covers the heartbreaking end of Jeannine's struggle and life after her death. Marriott provides readers with a courageous and inspiring memoir that honors her daughter Jeannine.
"The book reveals my daughter's battle with cancer so others understand what she endured and get a glimpse of what they might encounter. Cancer is not just one person's disease, it impacts everyone who loves and cares about them," says Marriott. "Coulda, Shoulda, Woulda is not a technical book about cancer. It's a moving story about one patient and her family. "
Coulda, Shoulda, Woulda
By Kenna P. Marriott
ISBN: 978-1-4759-9360-8
Paperback: $27.95
Available at http://www.amazon.com
About the author
Kenna P. Marriott is a motivational speaker born in Pittsburg and currently living in Spring Hill, Florida. She is on the Board of Directors of the National Alliance on Mental Illness and the Dawn Center for victims of domestic & sexual violence. Marriott owns her own consulting firm for businesses which specialization in organization development, management and team training. She describes herself as an empathetic person who seeks to help others.