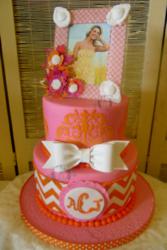 Icing Images products have influenced me to change the way I design my cakes.
Winchester, VA (PRWEB) June 19, 2013
The endorsement of Icing Images products by Sarah Myers of High Five Cakes marries innovative products with an up-and-coming cake designer that has fresh and creative ideas in the growing industry of cake design.
"Icing Images products have influenced me to change the way I design my cakes. I also love to combine Icing Images with other products," said Myers.
Myers avoids just printing edible images and putting them flat on a cake.
"Icing Images products gave me a different and unique way to apply pictures to a cake. I decided to take it to another level and make frames of isomalt to cast the images in and use as a cake topper," said Myers.
Myers recently demonstrated this technique to members of the Ohio Chapter of ICES in Columbus, OH.
Myers also uses Icing Images products for printing out edible banners, signs or greetings for her cake designs.
"So much time is saved by not creating some little details by hand. It makes those little details pop and is much more cost effective. It is hard to put a price tag on your time. There are so many little details that can be printed instead of handmade that take a cake to the next level as far as visual appeal to the client," said Myers.
Myers also endorses the Spellbinders® Sweet Accents™ Cake Designing Machine recently unveiled by Icing Images.
"I love the Spellbinders Sweet Accents Cake Designing machine! It is so easy to use to cut out extra details or a plaque to place a printed message on a cake!", said Myers.
Three years ago, after watching cake designing shows on television and with her "I Can Do That" attitude, Myers decided to give her notice at her corporate job.
"On my last day of work, I came home and made my first cake. We call it my "I Quit My Job" cake!" said Myers.
A former student of art, Myers used her experience in sculpting, painting and proportion and applied them to cake designing. "Fondant, gum paste and modeling chocolate are very similar to clay. I just had to learn the temperament of the medium. It came naturally really and I did not have a lot of trouble with it," said Myers.
Myers went on to say that she would like to make a brand for High Five Cakes as well as find a focus or genre of cake and stick to it. With wedding cakes being her bread and butter, she would love for sculpted cakes to start taking up the majority of her orders.
Myers plans to use Icing Image products in creative ways to promote growth for her business.
"Decorating in ways others are not in the cake designing industry always raises an eye. Icing Images products give me the opportunity to do just that. Icing Images is a great team to work with as they encourage me and help get my innovative ideas out to fellow decorators and people in the field," said Myers.
Icing Images has been a leading distributor of edible image and edible paper art supplies for over a decade. Edible image supplies such as edible image printers, edible ink, icing sheets, and electronic and die cutters are used by cake and confection decorators throughout the world.