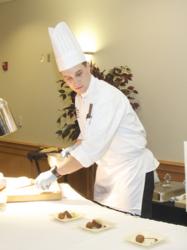 He is amazing on all levels yet remains humble.
Asheville, NC (PRWEB) June 19, 2013
Asheville-Buncombe Technical Community College Culinary Arts graduate Daniel Gorman won the 2013 National Jeunes Chef Rôtisseurs competition June 8 in Chicago. He advances to the international championship Sept. 6 in Istanbul, Turkey.
Gorman, a 2007 A-B Tech graduate, represented the Mid-Atlantic region. He is currently sous chef at the Inn at Little Washington in Washington, Va. In 2012, he won the World Association of Chefs' Societies Junior Chefs Challenge earning the title "best young chef in the world" after beating six chefs in international competition in Daejeon, South Korea. He has also held the American Culinary Federation titles Southeast Region Student Chef of the Year and National Student Chef of the Year.
"Daniel's consistently great attitude, along with ever increasing skills and knowledge, has paved the way for his many successes. He is amazing on all levels yet remains humble," said Chef Sheila Tillman, Associate Dean of Hospitality Education at A-B Tech. "We really appreciate that he acknowledges his A-B Tech training as a first step in his successful career."
Charles Gardiner, another A-B Tech Culinary Arts graduate, was also one of 10 competitors on the national level after winning the regional South Central Young Chef competition for the second time.
The annual event offers young chefs the opportunity to demonstrate their culinary skills in a competitive environment with their peers. The competition is open to chefs up to 27 years of age with less than five years professional experience. Competitors must be working in one of the Chaîne des Rôtisseurs member establishments.
The national and international contests require competitors to plan, prepare and plate three courses in four hours using a mystery basket of ingredients. The international field averages 24 contestants from among the 80 member nations.
Chaîne des Rôtisseurs is an international gastronomic society, founded in Paris in 1950, dedicated to honoring the preservation of the traditions and practices of the old French guild.
One of 58 colleges in the North Carolina Community College System, A-B Tech offers associate degrees, diplomas or certificates in more 50 curriculum programs through its five academic divisions – Allied Health and Public Service Education, Arts and Sciences, Business and Hospitality Education, Emergency Services and Engineering and Applied Technology. The Division of Economic and Workforce Development/Continuing Education offers opportunities for specific job training and retraining and personal enrichment classes.
A-B Tech enrolls nearly 27,000 curriculum and continuing education students, and an estimated one in four Buncombe and Madison residents has attended a class at the College.