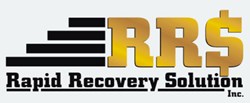 Bohemia, NY (PRWEB) June 21, 2013
On June 21, 2013, John Monderine, CEO of New York-based collection agency, Rapid Recovery Solution, comments on advice for consumers concerning late credit card payments after natural disasters.
A June 12th, 2013 article from Fox Business, "6 Ways to Protect Your Credit After a Natural Disaster," discusses ways consumers can avoid late credit card payments while rebuilding one's livelihood after a natural disaster.
While it is common and tempting for consumers to not have credit card payments at the forefront of their minds when trying to piece their lives back together, Melinda Opperman, of Springboard Nonprofit Consumer Management Inc., admonishes consumers to not disregard these payments: "A consumer's delinquent payments could ruin their credit score at a time when they need access to credit the most."
Here are ways consumers can ensure past debts don't come back to haunt them when reorganizing their life after a natural disaster.

Check your credit report: In order to mitigate any potential problems associated with your credit report, attain a copy of it as soon as possible from credit bureaus such as Experian, Equifax and TransUnion. Having this document in hand will make it easier to justify any financial difficulties encounter.
Contact creditors: Credit card companies will often waive late fees for consumers affected by natural disasters, but make the effort to reach out to them so they are aware of the financial situation. With this information in hand, credit card companies will be more amenable to offering a consumer different options such as short and long term payment assistance programs.
Provide details of the disaster's effect on credit report: Craft a statement explaining how the natural disaster affected your credit. This will reassure creditors that a consumer is responsible in spite of uncontrollable events. Creditors will be more likely to consider those consumers in lending decisions and will not dock your credit score.
John Monderine, CEO of Rapid Recovery Solution, agrees consumers should follow these steps in order to minimize their chances of running into delinquent payments. "It is understandable that most consumers don't have credit payments at the forefront of their minds immediately following a natural disaster. It is also equally frustrating to navigate the complex and convoluted bureaucracy of credit card companies. While avoiding red tape may seem like a good idea at the moment, consumers will be in for a rude awakening if they opt to delay payments and not explain their situation as a result of the disaster. It will be harder for consumers to receive any help it they wait to speak up."
Founded in 2006, Rapid Recovery Solution, Inc. is headquartered at the highest point of beautiful Long Island. Rapid Recovery Collection Agency is committed to recovering your funds. We believe that every debtor has the ability to pay if motivated correctly. We DO NOT alienate the debtors; we attempt to align with them and offer a number of ways to resolve not only your debt but also all their debts.
###