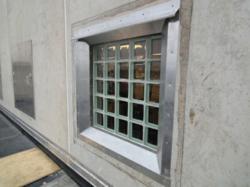 "The real danger from a tornado comes in the form of flying debris," says Mary Lynn Bruce, Market Product Manager for Pittsburgh Corning
Pittsburgh, PA (PRWEB) June 20, 2013
Leading glass block manufacturer, Pittsburgh Corning, announce they have improved upon their high performance window systems adding greater flexibility in size, design and installation options. As a pioneer in Tornado-resistant product development, Pittsburgh Corning aims to raise awareness regarding the destruction seen from the string of recent, deadly tornadoes. Through testing and engineering, Pittsburgh Corning's improved Tornado-Resistant glass block windows can make people feel safe and secure knowing these windows can resist wind speeds up to 359 mph.
"For residents who have ever experienced a tornado, they know that while 250 mph winds are powerful, the real danger comes in the form of flying debris," says Mary Lynn Bruce, Market Product Manager for Pittsburgh Corning. "Our Tornado-Resistant glass block windows exceed the most stringent pressure and impact requirements for FEMA 361, 320, AAMA 520, ICC/SNNA 500-2008 and can withstand multiple blows from a 15lb 2X4 board traveling at 100 mph, making them the perfect solution when you want beauty and function that will weather any storm."
A notable design improvement is the increase in size. Windows are now available in larger sizes up to 56" X 96" to accommodate floor-to-ceiling architectural design. Other exciting improvements include more flexible options for window placement within an opening. They can now even be placed flush with an exterior wall, providing added security as the panels are now anchored from the interior side.
Perfect for Safe Rooms, Community Shelters, Schools, Corporate Campuses and Government Facilities, the Tornado-Resistant windows come factory-assembled and are easy to install maintaining the strength and durability of steel and laminated VISTABRIK glass block. The high performance windows provide effective protection from severe weather elements, while letting people see what is happening outside of the shelter. It also allows for day lighting to enter the space which is a benefit both when using the space as a shelter, and also as a multipurpose area during other non-critical times.
Additional benefits of the Tornado-Resistant windows include:

Protection against air pressure and flying debris caused by tornado-forced winds.
Enhanced security with vision and light transmission
Protection from damaging UV rays
For technical specs or to learn more about Pittsburgh Corning High Performance Systems or any of the full line of glass block products, visit http://www.pittsburghcorning.com.
For specific information on how to use Tornado Resistant Glass Block Windows in your next project call the Technical Support Team at 800-871-9918 and ask for Nick Loomis, PE.
About Pittsburgh Corning Corporation
Pittsburgh Corning is the leading manufacturer of premium glass block products and specialized architectural window systems for commercial, institutional, government and residential buildings. Glass block products are extraordinarily versatile, providing design options and daylight while keeping people and property safe and secure. Since 1937, Pittsburgh Corning has been on the forefront of innovative applied glass technology, designing products that stand the test of time. Headquartered in Pittsburgh, Pennsylvania, Pittsburgh Corning is an equity affiliate of PPG Industries, Inc. and Corning, Inc.