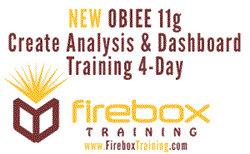 It is remarkable just how much my students tell me they like being able to take such a high-level course from the comfort of their own home
Golden, Colorado (PRWEB) June 19, 2013
Firebox Training of Golden, Colorado is expanding their public course offerings for the popular Oracle OBIEE curriculum. The public course expansion focuses on the OBIEE 11g Create Analysis and Dashboards training courses and will include a concentrated 4-day option that will qualify students for the specific OBIEE discipline.
The public instructor-led online OBIEE training course gives staff members of a department the opportunity to learn without having a need recruit more students from a single organization. The days of large IT departments has come and gone for most medium or even larger business. The OBIEE 11g Create Analysis and Dashboards course allows staff members to create high quality ad hoc reports.
Students get their own cloud server to use during class making the OBIEE training a very hands-on learning experience. In fact, students spend nearly 50% of the class time performing practical labs. Often it is possible to book the training class with the author of the Firebox course-ware. Having access to a course from the person that wrote the book on the subject is an opportunity most students don't often get.
While most companies would like to take classes directly from Oracle University, students can learn the technology from Firebox Training without breaking the IT training budget. The savings realized by going through Firebox instead of Oracle directly is substantial. Firebox believes having the instructor-led environment coupled with the actual writer of the course-ware represents a tremendous value beyond the cost savings alone.
"We are seeing more companies than ever choose the Instructor-led online OBIEE training for their staff" says Shawn Johnson, the Director Marketing at Firebox Training. Johnson continued, "We have even had local Colorado companies choose to go with our online OBIEE training."
Instructor-led online classes are becoming a more popular format for small business and throughout all educational systems. Public schools and universities have turned to online courses as a viable alternative to the traditional classroom setting. It save times and money to take a class online compared to traveling to a location for a classroom.
"It is remarkable just how much my students tell me they like being able to take such a high-level course from the comfort of their own home" says Julie Johnson, the CEO of Firebox. "At the end of our 5-Day Intro to Intermediate Java Boot-camp training course our students are armed with the fundamentals to start creating real-world applications" stated Johnson.
The new OBIEE public course offerings from Firebox Training is just one more addition to their growing list of virtual assets, which include a very active blog community and a series of free video training tutorials that have garnered well over 125,000 video views. One example of their free video tutorials is the OBIEE training series found here: http://www.fireboxtraining.com/oracle-business-intelligence-training
Firebox Training was founded in 2007 in Golden, Colorado. Since that time Firebox has delivered training for well known organizations including, BMW North America, General Dynamics, Vertafore, Comcast, NREL, Citrix, Time Warner, State of Alaska and HomeAdvisors, just to name a few. Firebox instructors travel to client locations across the globe. Most recently they completed training in Ft. Bragg, New York, Boston, Austin, Seattle and Denver.