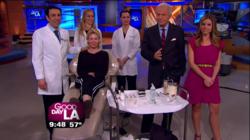 Los Angeles, CA (PRWEB) June 18, 2013
The July 2013 issue of Marie Claire magazine in an article entitled "The Cheater's Guide to Getting Beach Ready," offers a list of home and doctor's office treatments to get women ready to look their best in a bathing suit this summer. The list includes treatment options for stretch marks, skin firming, smoothing cellulite, and more. (go to goo.gl/aIe4J).
"It's a helpful list," says Dr. Simon Ourian, Medical Director of Epione Beverly Hills, "though I would say some of the advice offered will, at best, produce only temporary results. For example, I don't think an at-home microdermabrasion kit will address stretch marks in the same way we can in our office with a CoolBeam laser treatment. Nor do I believe that an over-the-counter cream is going to do much to alleviate cellulite."
According to the article, many French women use a body-toning massage called the palpated roll to instantly tone their skin by clearing blockages so blood can flow more freely. Unsweetened cranberry juice is suggested as a diuretic to flush out excessive, bloat-causing sodium. And a spray-on tan can help make bruises, cellulite, and visible veins less noticeable.
"It's hard to argue, for example, with a suggestion to practice better posture," says Dr. Ourian. "I appreciate that the list is intended as an 'emergency' guide for last minute beach body readiness. My suggestion is that women use the winter and spring months to visit a qualified cosmetic dermatologist to map out a customized treatment plan."
Dr. Ourian has been a pioneer in laser technology and non-invasive aesthetic procedures including Restylane, Juvéderm, Radiesse and Sculptra. These treatments are used for the correction or reversal of a variety of conditions such as acne, acne scars, skin discoloration, wrinkles, stretch marks, varicose veins, cellulite, and others. More information about the getting your body beach ready can be found on Epione's website.